South Florida Gay News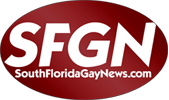 The South Florida Gay News.com celebrates the lives of South Floridians with daily news briefs and storied features, breaking news and lifestyle profiles. Check out their website at southfloridagaynews.com.
While Supercon draws crowds in South Florida, Tampa Bay Comic Con gathers fans and celebs a little further up north. TBCC hits Tampa this Friday, July 28, through 30 at 333 S. Franklin St.
It's been 40 years since the Village People began their meteoric rise up the disco charts, ultimately earning a permanent place in American pop culture history.
Thousands of dollars were raised in creative ways Monday evening for a local HIV/AIDS charity.
DC Comics is introducing Doctor Endless, the company's first genderfluid character in the new DC Universe, according to media news website Bleeding Cool.
Big budget sequels are a given for superhero franchises like Spider Man, Iron Man and Superman, but the world's first "out" gay superhero, Surge, is finally returning to the big screen after a 13-year hiatus.
Ramzan Kadyrov, president of the Russian republic of Chechnya, has denied claims of persecution and murders of perceived bisexual and gay men by claiming Chechnya has no gays.
Russian newspaper Novaya Gazeta released the names of 27 perceived gay and bisexual men reportedly executed without trial in Chechnya. Russia's Kremlin has reacted to these claims.
Trump wouldn't recognize pride month, but that won't stop members of the Senate.
The Trevor Project, an organization created to prevent suicide in the LGBT community, has been receiving an increase in suicide hotline calls following the presidential election.
College Choice released this year's top 50 colleges for LGBT students - and only one Florida school made the list.