Top Story
You know by now that social media leaves out the fender benders, arguments and weather mishaps essential to any vacation. You can add financial faux pas to that list.
1 thru 10 of 11835 Stories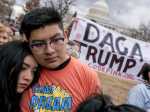 The Obama-era program that shields young immigrants from deportation and that President Donald Trump has sought to end seems likely to survive for at least another year.
Voting in Congress was not expected to unfold until later in the week. Even then it seemed doubtful that the 1,300-page measure, dubbed "End The Shutdown And Secure The Border Act," had any chance of passing swiftly.
The son of new Brazilian President Jair Bolsonaro is fending off suspicions of financial irregularities that are starting to cast a shadow over the administration just four weeks in power.
Wielding control of the House and a new set of investigative powers, Democrats are preparing to bring Education Secretary Betsy DeVos under the sharpest scrutiny she has seen since taking office.
GoFundMe, the largest online, crowdsourced fundraising platform, says contributors have raised more than $5 billion, all told, from 50 million donations in the eight years it has been in business.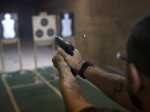 Changes in Brazil's gun laws are a potential boon for major gun makers. On Bolsonaro's first day in office earlier this month, stocks of gun manufacturer Forjas Taurus jumped 30 percent. But for others the changes are terrifying.
The world economy absorbed more bad news Monday: The International Monetary Fund cut its growth forecast for 2019. And China, the world's second-biggest economy, said it had slowed to its weakest pace since 1990.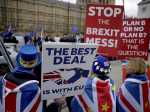 Prime Minister Theresa May on Monday rejected calls to delay Britain's departure from the European Union, and said her Plan B was to get her rejected Brexit deal approved by Parliament after securing changes to a contentious Irish border measure.
Over the past week and through the weekend, Trump and his team misstated the reality on myriad issues, many connected with the partial government shutdown, Trump's proposed wall and the Russia investigation. Here's a look.
Prime Minister Theresa May is set to unveil her new plan to break Britain's Brexit deadlock — and it's expected to look a lot like the old plan decisively rejected by Parliament last week.
1 thru 10 of 11835 Stories