Top Story
A Kentucky print shop owner who refused to make a gay pride T-shirt argued before the Kentucky Supreme Court that he shouldn't be compelled to promote messages that go against...
1 thru 10 of 13359 Stories
From fiery protests outside detention centers in Texas, New Jersey and Rhode Island to a sit-in that blockaded an Amazon store in New York, a fledgling coalition of liberal Jewish groups is increasingly making itself heard.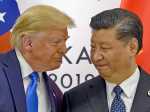 President Donald Trump is threatening to use the emergency authority granted by a powerful but obscure federal law to make good on his tweeted "order" to U.S. businesses to cut ties in China amid a spiraling trade war between the two nations.
When it comes to tax money from marijuana sales, California is living with diminished expectations.
The National Education Association's latest salary data estimates the average public school teacher in the U.S. saw a 2% pay raise over the past two years since the national Red4Ed protest movement spread across the U.S.
Just a week after announcing its $1.4 billion acquisition of Gannett , GateHouse Media was again laying off journalists and other workers at its newspapers, possibly foreshadowing the future awaiting employees.
Leaders of major world economies are meeting to discuss the shaky world economy amid trade disputes and uncertainty over U.S. President Donald Trump's policies.
President Donald Trump heads into a summit with global economic powers confronting the consequences of his preference for going it alone in a polarized nation and an interconnected world.
Trump has built a crew of economic advisers known more for their allegiance to him than their policy chops.
Barely a year after most of the world's major countries were enjoying an unusual moment of shared prosperity, the global economy may be at risk of returning to the rut it tumbled into after the financial crisis of 2007-2009.
Texas' muscular gun-rights lobby swiftly pushed back after Gov. Greg Abbott raised the possibility of tighter firearms laws in response to a gunman killing 22 people at an El Paso Walmart.
1 thru 10 of 13359 Stories