1 thru 10 of 6224 Stories
Ask those involved in self-driving vehicles when we might actually see them carrying passengers in every city, and you'll get an almost universal answer: Not anytime soon.
Kohl's wants you to skip the post office and bring your Amazon returns to its stores.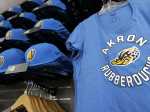 Across America, a golden age of minor league baseball branding has unfolded, bursting with exuberance and calibrated localism. And two guys from San Diego have helped teams find the way.
The owner of a Kentucky barbeque food truck got more heat than he bargained for when he began selling T-shirts with the message "I support LGBTQ: Liberty, Guns, Bible, Trump, BBQ."
Kevin Hogan, chief executive of insurer AIG's Life & Retirement division, spoke with The Associated Press about longevity, financial anxiety and other issues surrounding retirement in the U.S.
Macy's and The Trevor Project are rolling out a series of initiatives aimed at raising funds and awareness for Trevor's life-saving mission and services for at-risk LGBTQ young people.
Stop & Shop supermarket workers and company officials reached a tentative contract agreement Sunday that includes wage increases for all associates and maintains health coverage, according to news releases from both parties.
Actress Anjelica Huston is supporting efforts to outlaw fur sales in the fashion mecca of New York.
While there are a few exceptions, Mueller's investigation repeatedly supports news reporting that was done on the Russia probe over the last two years and details several instances where the president and his team sought to mislead the public.
Workplace wellness programs have become an $8 billion industry in the U.S. But a study published Tuesday in JAMA found they don't cut costs for employers, reduce absenteeism or improve workers' health.
1 thru 10 of 6224 Stories