1 thru 10 of 4152 Stories
Financial crises happen. Be it for emergency purposes or for personal expenses such as health-improvement funding, understand your financial position first.
British lawmakers from across the political spectrum were plotting Tuesday to put the brakes on Prime Minister Boris Johnson's drive to push his European Union divorce bill through the House of Commons in just three days.
French vintners are begging for government aid. Italian farmers are scrambling for new export markets. And American shoppers are about to face supermarket sticker shock on European products.
Food trucks. Wi-Fi. Hot showers. Those campground upgrades could be coming to a national park near you.
Get on board, world. That's the message from the White House as it starts shaping plans for next year's Group of Seven summit in Florida.
The Trump administration is defending its get-tough approach to trade against widespread attacks from America's trading partners while at the same time arguing that many countries must increase government spending to boost global growth.
This scam allows criminals to hijack your cell phone number. Once they have your number, the bad guys can clean out your financial accounts, confiscate your email, delete your data and take over your social media profiles.
Mining companies filing for lower royalty rates wouldn't have to describe exactly where the minerals would be mined or how much they've mined recently.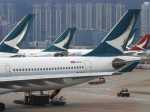 Hong Kong airline Cathay Pacific says passenger traffic slumped last month on plummeting demand from mainland Chinese travelers.
The Senate voted Thursday to sustain President Donald Trump's veto of Democratic-sponsored legislation reversing his raid of military base project money to pay for the U.S.-Mexico border wall.
1 thru 10 of 4152 Stories