Top Story
Dan McCabe appeared on the Huntington's Wimberly stage as an actor 7 years ago; this week he returns, but this time as a playwright with "The Purists" having its pre...
The characters may feel shallow, hollow, and dull, but there's a sense that everyone is having some fun, and that in turn makes the movie a good — if underwhelming — time.
The popular film gets a redux for the stage in this soundtrack, an invigorating take on what has become a pop-culture phenomenon.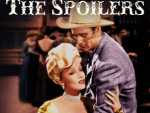 The John Wayne and Marlene Dietrich-starring 1942 western "The Spoilers" is now available on Blu-ray from Kino Lorber. While Dietrich's turn as a saloon owner is noteworthy, the rest of the film rarely rises to her occasion.
This is a future favorite that's landed in the here and now: Don't miss it.
Ten years ago, Gareth Thomas, a star rugby players who hails from Wales, made international headlines when he came out as gay. Now Thomas has come out again - as HIV-positive.