Straight Up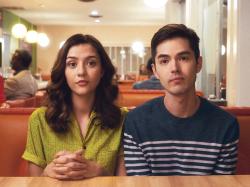 It doesn't always work and the ending is muddled, but the "is he gay or straight" indie movie "Straight Up" has a lot of charm because of some sharp writing and terrific performances. The drawback is that the script's message isn't always clear.

Written, directed, and starring James Sweeney, this unusual rom-com asks questions about connection without sex, love without need, and questions without answers.

Sweeney plays Todd, a seemingly obvious gay man with a hundred quirks and fears, the biggest of which is his frustration with finding a male partner that can deal with them all. For this reason, he considers opening the dating pool to women, much to the dismay of his best friends Nicole (Hillary Anne Matthews) and Darien (Logan Huffman), who can't understand why he doesn't just accept the fact that he's gay. Enter Rory (Katie Findlay), a struggling actress with a negative view of the world and a speaking pattern that puts the Gilmore Girls to shame. The two meet in a library and hit it off with their similar interests, their hundred-miles-a-minute manner of speech, and similar outlooks on life. Soon enough they are spending the day together, and before you know it, Todd has invited her to housesit with him for a seemingly extended period of time.

Much of the film is the rapid-fire banter between the two, which is a bit unbelievable, but terribly charming and fun to listen to. Findlay is an expert at this, and her character is the most well-rounded and interesting. It's easy to be swept away by her, even though her snarky personality might be offputting to some. She's not a one-note character, and that does wonders in how we relate to her.

The character of Todd is more challenging. Despite his many sessions with therapist Dr. Larson (Tracie Thoms), he is constantly questioning his life, his decisions, and his sexuality — even though it's obvious to everyone he is gay and just needs to control his many idiosyncrasies. The problem is that he can come across as unsympathetic, and I was never sure if I really thought he loved Rory and wanted to really be with her, or he was avoiding his truth. Even in the end, I wasn't sure if he'd really learned anything. Rory, on the other hand, has an arc that is satisfying.

I would have liked to have seen Sweeney examine a gay man falling in love with a straight woman for real and not knowing what to do with it, considering the lack of sexual desire. (Something the gay film "Big Eden" explored between a straight man in love with his gay best friend, but unable to "go there" sexually.)

Despite the issues, there is something appealing about this small film, and it does make me wonder what Sweeney can come up with next. As for Findlay, I am a fan and look forward to anything she does next. Straight up, she deserves to be the next big thing.
Kevin Taft is a screenwriter/critic living in Los Angeles with an unnatural attachment to 'Star Wars' and the desire to be adopted by Steven Spielberg.
Comments on Facebook