Once Upon A Time... in Hollywood
At times "Once Upon a Time... in Hollywood" has the feel of a period travelogue — Look, "Krakatoa, East of Java" is playing at the Cinerama Theater. Isn't that Connie Stevens talking with Steve McQueen at the Playboy Mansion? And don't Roman Polanski and Sharon Tate seem so much in love? In Quentin Tarantino's Hollywood, you might just sit next to Tate at a neighborhood movie theater showing her latest film, the Dean Martin-helmed "The Wrecking Crew," which she sneaks into seeing.

For better or worse, no one could have made this nearly three-hour dark show business comedy except Quentin Tarantino, whose encyclopedic knowledge of Hollywood and love of the movie industry join in something of a remembrances of things past, that past being Hollywood, circa 1969.

It is a crucial moment in filmdom's history: while 1939 is thought to be the apex of old Hollywood, 1969 was its death knell. The new movie star wasn't John Wayne or Gary Cooper, he was Dustin Hoffman and Jack Nicholson; The X-rated "Midnight Cowboy" won the Oscar for Best Picture; and the studios lost the ability to gauge the changing tastes of the American public, losing millions on "Hello, Dolly!" and "Paint Your Wagon" while audiences flocked to "Easy Rider."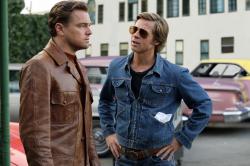 It is often thought that the late 1960s brought an end to American innocence, sparked by the murder of Tate and her companions in the Hollywood Hills at the hands of Charles Manson's gang on August 9, 1969. No murders galvanized the public as these did — that they were so vicious and so random was terrifying. That Tarantino set out to dramatize events surrounding the murders is the hook that has made the film provocative from the start. That and the deal he made that gives him complete artistic control, a hefty percentage of its opening gross and eventual ownership of the film made this appear to be the Tarantino dream project. His wet dream.

The film is divided into two parts — a longer 130-minute section that is set in February, 1969, and a half-hour-or-so second set six months later in and around two residences on Cielo Drive, one owned by movie/television action star Rick Dalton, the other rented by Roman Polanski and his pregnant wife Sharon Tate, who lives there with house guests Abigail Folger and Wojciech Frykowsk, and former fiance Jay Sebring. (Polanski isn't present, away in Europe.) As she was in real life, Tate is a bit remote, though Margot Robbie humanizes her into a lithe, dreamy presence — if this fairy tale has a princess, it is she. Though in the first half, she is largely in the background, save for that aforementioned trip to the movie theater where she guiltily watches herself on the screen.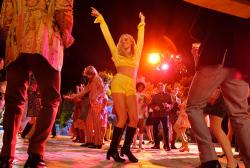 Rather it centers on Dalton (Leonardo DiCaprio) and his stunt double, Cliff Booth (Brad Pitt). At first it is a bit of a shock to see the actors middle-aged and a bit haggard; but their chemistry is immediate with DiCaprio playing ying to Pitt's yang. They have a perfect co-dependent relationship — the explosive Dalton has a big ego that needs to be stroked and Booth is happy to comply with a Zen-like demeanor. Booth may be the most happy-go-lucky character Pitt has ever played — laid-back, but confident, cool but not afraid of a confrontation; as when he crosses Bruce Lee (a priceless Mike Moh) in a funny mano-a-mano confrontation. He is like a character from a Howard Hawks' western — one of those rambunctious cowboys that never takes things too seriously — who wanders into real-life Hollywood, and Pitt relishes the role. DiCaprio is equally good; having a tantrum one minute, crying in his beer the next; that he makes Dalton so endearing is a wonder, but he succeeds.

The reason he is so emotionally volatile is that he's at a career crossroads: his hit television show — a Western called "Bounty Law" (patterned after the 1950s series "Wanted Dead or Alive") has been cancelled due (it is hinted at) to his off-screen drinking. These antics also lead to him hiring Booth to be his 24-hour chauffeur. With guest spot roles on such shows as "The FBI" and "The Green Hornet" drying up, Dalton is being wooed (by an agent played by Al Pacino) to star in Spaghetti Westerns in Italy, which he sees as a humiliation. The irony here is Clint Eastwood's career; but, oddly, in this uber-insider look at Hollywood, his name is never mentioned. Perhaps — this being fiction — he never existed.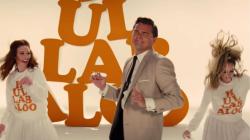 And that's a key thing to remember when watching this film, which mixes real-life characters with fictional ones, that this is a Hollywood fable about the end of the era — an homage, really, to the ethos of the Western at the end of its hold on the public imagination. Westerns have persisted, but not as they did in old Hollywood.

Tarantino has great fun in reimaging the shows and movies of the period - recreating those black-and-white Westerns television shows and action movies that were so popular in the 1950s. One of the funniest sequences has DiCaprio in his best Bobby Darin imitation singing an awful pop song on the iconic 1960s show "Hullabaloo," accompanied by frugging Hullabaloo dancers. He also peppers the film with so many familiar faces that a second viewing is in order just to keep track of them. Al Pacino, Timothy Olyphant, Kurt Russell, Lena Dunham, the late Luke Perry, Damian Lewis, Emile Hirsch, Michael Madsen, Bruce Dern and Austin Butler all turn up. Standing out amongst the supporting actors are Julia Butters, an eight-year old far wiser than her years who has the film's most affecting moment with a forlorn DiCaprio; and Margaret Qualley, seductively playful as a Manson follower who takes Pitt to the dilapidated Spahn Ranch, once used by Hollywood in location shooting. That sequence turns more and more tense as Pitt confronts the Manson family members before it erupts into violence.

Working with production designer Barbara Ling, he creates Hollywood as a vibrant place in great flux, both economically and socially, which gives the film a richly entertaining surface. Just seeing the movie posters that adorn the walls is a must for cinephiles. There is so much to enjoy here that its indulgence and (in one shocking sequence) violence against women make for subjects for later discussion.

While clocking in at 160 minutes, "Once Upon a Time,,, in Hollywood" never feels long; in fact, there are some things that could be better explained with more screen time, such as Booth's shady history with his ex-wife. Tarantino also indulges his fetish for old movies and television, going down enjoyable wormholes in his recreations of them. In Tarantino's Hollywood, everyone is watching a screen — large in screening rooms and movie theaters or small on televisions — all the time; and these fictional fragments are pretty much a hoot, as is the movie itself. But, spoiler alert, to paraphrase the great Chekhov adage: when you introduce a flame thrower in the first act, expect it to reappear in the third.
Comments on Facebook