Netflix is sharing the new trailer for the sports drama "High Flying Bird," written by out playwright and "Moonlight" scribe Tarell Alvin McCraney, and directed by Steven Soderbergh.
This "Glass" isn't half full, per se, but it certainly leaves the viewer feeling parched.
"Precious" director Lee Daniels took to Instagram Wednesday to reveal his next project: He's apparently working on a new film about a black gay superhero. The Oscar-nominated filmmaker has apparently found his lead: Viral sensation Damien Cooper.
Harmony Korine's "The Beach Bum," Olivia Wilde's directorial debut and a documentary on the breakout campaign of Texas politician Beto O'Rourke will premiere at the annual South by Southwest Film Festival.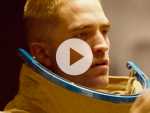 The first trailer for the highly anticipated erotic space thriller "High Life," starring Robert Pattinson, was released Wednesday.
Sofia Coppola and Bill Murray will reunite 16 years after the Oscar-winning "Lost in Translation" in the splashiest feature film yet announced by Apple.
Ivan Reitman is passing the Ghostbusters torch to his son.
A fascinating work of psychosexual politics and secondhand humiliation, Ingmar Bergman's "Sawdust and Tinsel" arrives on Criterion Collection Blu-ray.
Sony Pictures dropped the teaser trailer for the upcoming "Spider-Man: Far from Home," the sequel to the popular 2017 blockbuster "Spider-Man: Homecoming." The new film features Jake Gyllenhaal as Quentin Beck / Mysterio.
Alfred Hitchcock's "Vertigo" has been examined and mimicked for years, and Director Brian De Palma offers up a variation of Hitchcock's story of duality in a new Blu-ray release.