Mark Morris Dance Group, 'Pepperland'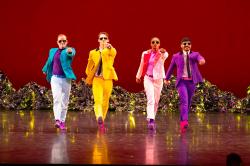 The Mark Morris Dance Group brought "Pepperland," their tribute to the Beatles, to the Boch Center Shubert Theatre on February 8-10, thanks to the Celebrity Series of Boston. The dance celebrates the 50th anniversary of the innovative counter-cultural 1967 album "Sgt. Pepper's Lonely Hearts Club Band," issued when Morris himself was an impressionable 11 years old.
A group of dancers opens the evening in a huddle that slowly unravels to give each dancer space and individuality to the tune "Sgt. Pepper's Lonely Hearts Club Band." The announcer's strong voice-over introduces some of 71 celebrities featured on the album's artwork. A stream of dancers strides across the stage as if each was one of those celebrities. But the dancers provide a witty glaring visual contrast in each case.
These unlikely combinations include the chic Oscar Wilde as a girl with long hair and colorful clothes; buxom blond Marilyn Monroe as a tall, small-breasted, thin brunette; and Albert Einstein, known for his rumpled look and unkempt white hair, as an elegant young gent in a natty red suit. Each "famous person" strikes a vampish pose and puts on dark glasses. When the four "Beatles" turn up, the rest of the cast devolves into a gaggle of screaming fans.
The remarkable live chamber music ensemble is, as live music always is with Morris, an essential foundation to "Pepperland." Special mention must go to the distinctive voice work of Clinton Curtis, to the lyrical soprano sax of Sam Newsome, and to the eerie theremin (a hands-off electronic instrument invented in 1928 in the Soviet Union) of Rob Schwimmer. Together they add a layer of wavering sound to composer Ethan Iverson's inventive spin on these now-classic songs.
The costumes designed by Elizabeth Kurtzman — meant to reflect the album's era — are pure eye-candy: solid, vivid, neon colors in mix-and-match combos that are integrated into the choreography. The back of the stage is
With vocals that sound like a bassoon on "With a Little Help from My Friends," we are treated to Morris's best-known skill: taking a dance phrase and building a dance around its repetition and adaptation. The dancers switch out their partners in a light-hearted romp.
In Iverson's "Adagio" (he also added a couple of interludes), we are told of a dating service that requires a self-addressed stamped envelope. We first see two women in an explicit romantic embrace, then two men together, and finally a mixed-sex couple. A sexy slow-dance between the women is reminiscent of the way pre-Stonewall lesbians danced in stolen moments in the underground bars. The men perform more exuberantly as one of them leads lifts and twirls and the other one follows.
Mark Morris' unworldly and complex musicality is highlighted in "When I'm 64," when he uses a discordant rhythmic interplay to great effect. Later, the choreography in "Penny Lane" (from a different album) is adorable, playful, and literal. The program notes call "A Day in the Life" a "theremin nocturne" and it has a more somber vibe as the dancers don jackets and at one point sing along.
When we return to the song "Sgt. Pepper's Lonely Hearts Club Band" at the end, we revisit the unwinding huddle. The two women remain standing in a deep hug — the best antidote to lonely hearts — while the rest of the group sinks to the floor. The audience's standing ovation for this 65 minute, non-stop performance is raucous and Mark Morris leaves his seat in the middle of the theatre to take his triumphant bows on the stage.
The Celebrity Series of Boston presented Mark Morris Dance Group, "Pepperland" on February 8 — 10 at the Boch Center Shubert Theatre, 265 Tremont Street, Boston, MA. For more information about this event and upcoming Celebrity Series events, visit its website.
For more information about the Mark Morris Dance Group, visit the company's website.
Sue Katz is a "wordsmith and rebel" who has been widely published on the three continents where she has lived. She used to be proudest of her 20-year martial arts career, her world travel, and her edgy blog Consenting Adult (suekatz.typepad.com), but now she's all about her collection of short stories about the love lives of older people, Lillian's Last Affair.
Comments on Facebook