Top Story
A man from the Hudson Valley region of New York is suing a gay porn company for selling his private information.
1 thru 10 of 13776 Stories
Higher education is expensive. So is gender reassignment. But a scammer hit upon a way to have both for free... sort of.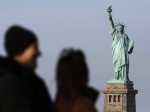 Majorities of Americans agree that diversity strengthens the country and that values such as constitutional rights, a fair judicial system and the American dream are key to the nation's identity. But the poll also reveals some striking divisions.
Florida dramatic arts teacher Monica Toro-Lisciandro says that the taxpayer-funded private Christian school where she taught a class fired her after school officials received a tip from an unknown caller that she is a lesbian.
WikiLeaks founder Julian Assange appeared in court Monday to fight extradition to the United States on charges of espionage, saying he needed more time to prepare his case.
A group representing Maine's lobstermen says it's now willing to work with the federal government on a plan to protect right whales after withdrawing its support for the plan this summer.
Hillary Clinton's scuffle with Gabbard and other recent headlines she's driven demonstrate that the 71-year-old remains a political lightning rod, just as she's been through much of the last three decades.
Food delivery company Just Eat has rejected a takeover offer from South Africa's Prosus, saying that the 4.9 billion-pound ($6.2 billion) cash offer "significantly undervalues" it.
Financial crises happen. Be it for emergency purposes or for personal expenses such as health-improvement funding, understand your financial position first.
British lawmakers from across the political spectrum were plotting Tuesday to put the brakes on Prime Minister Boris Johnson's drive to push his European Union divorce bill through the House of Commons in just three days.
Thousands of restaurants are experimenting with virtual spinoffs tucked inside their own kitchens. Others are opening "ghost kitchens," where food is prepared strictly for delivery or pick-up.
1 thru 10 of 13776 Stories