Top Story
A breakdown of some of the best films of 2019 and where to stream them.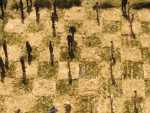 The museum of the Nazi German Auschwitz death camp is objecting to a scene in a new Amazon TV series that shows a murderous game of human chess being played there, insisting that no such thing took place at the camp.
Grammy award-winning singer Pharrell may have been fired from three different McDonald's as a teen, but that didn't stop him from opening what has become one of the hottest restaurants in Miami.
Barbara "B." Smith, one of the nation's top black models who went on to open restaurants, launch a successful home products line and write cookbooks, has died at her Long Island home at age 70 after battling early onset Alzheimer's disease.
"Sonic: The Hedgehog" zoomed to the top of the box office with a take of $26.3 million in its second weekend while audiences ignored critics and heeded "The Call of the Wild."
When dancer Camila Prins entered Sao Paulo's Carnival parade grounds, a costume of feathers clinging to her sinuous body, she fulfilled a dream of feminine beauty nearly three decades old.