Pop Culturing is an ongoing weekly column that looks at new television, film and music and their place in the larger cultural conversation.
With the third season of "The Deuce," HBO's New York City and porn history drama, starring Maggie Gyllenhaal and James Franco, comes to an end.
MTV's "Are You the One?" and "The Real World: Atlanta" are changing the game when it comes to LGBTQ representation. Here's why you should be watching.
"On Becoming a God in Central Florida," starring Kirsten Dunst and debuting on Showtime Sunday, is a twisted take on the American dream.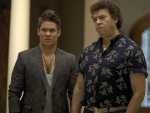 "The Righteous Gemstones," which airs Sunday on HBO and stars John Goodman, is Danny McBride's newest comedy about an over-the-top televangelist family.
In the second season of HBO's "Succession," which debuts Friday, the Roy family is at war; with each other and the world around them.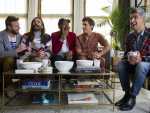 In "Queer Eye" Season 4, which hits Netflix Friday, the Fab Five get a bit personal but the makeover reality show still offers up the same kind comfort TV.
HBO's new series "Euphoria," starring Zendya, pushes the boundaries of the teen drama genre, becoming one of the most provocative, explicit and controversial shows of 2019.
Nicolas Winding Refn is the latest auteur to head to the small screen with his ultraviolent, slow-burning neo-noir series "Too Old to Die Young," on Amazon Friday, starring Miles Teller.
"Pose" returns for its second season on FX Tuesday, jumping from the 80s the 90s and landing in a pivotal moment in LGBTQ history. It's also one of the best TV shows of 2019.
"Big Little Lies," HBO's once limited series, returns for a second and likely final season Sunday, adding a fierce Meryl Streep to the show's star-studded cast.