Started as the Seattle Lesbian & Gay Film Festival in October 1996, the Seattle Queer Film Festival has grown into the largest event of its kind in the Pacific Northwest, gaining industry and audience recognition for showcasing the latest and greatest in queer film, from major motion picture premieres to emerging talent. An important venue in the Seattle film scene, the festival provides unique opportunities for visiting and local filmmakers to engage and entertain the Greater Seattle region's LGBTQ and allied community.

For more information, visit https://threedollarbillcinema.org/seaqueerfilmfest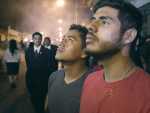 This stunning award winning coming-of-age tale with world-wide appeal is only the 2nd LGBTQ movie to be made in Guatemala.
Evans' loss of sight from a genetic eye condition called retinitis pigmentosa causes him to analyze what it means to be an artist living with limited eyesight.
The film's portrait of village life is both affectionate and unsparing, but it's a beautifully rendered work of cinema that benefits from the performances of its cast as well as a lush, evocative score.
This is a future favorite that's landed in the here and now: Don't miss it.
When Ramin escapes Iran where is persecuted for being gay, he ends up in Veracruz — where he still feels he cannot be himself.
To mark the 50th Anniversary of Stonewall, You Tube star Raymond investigates the state of Pride today.
Daniel G. Karslake presents a poignant documentary look at the impact of conversion therapy and evangelical zealotry on four LGBTQ families.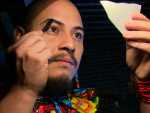 There is a small town in Mexico where one day a year the men dress up as women - and there is a resentment that the gay community want to be a bigger part of it.
Documentary filmmaker Rachel Mason explores a slice of gay history — and a walloping wedge of family lore — with her slightly scattershot but utterly absorbing film about her parents' bookstore Circus of Books.
It's a joyous film that is like a breath of fresh air, and that deals with a same-sex marriage without resorting to heaviness or lapsing into cliched scenarios.