1 thru 10 of 1360 Stories
When is the last time that you put any considerable amount of thought into your product choices? Hair can make or break a first impression. If you've been feeling like you should up your hair game, consider these eight picks.
Complications and even deaths of several out-of-state women in recent years have spiked concerns over safety of the cosmetic procedures, prompting a bill before the Florida Legislature this year to impose stricter regulations.
No, you're not going to get high, but CBD grooming products are overtaking the skincare industry like weeds. Here are our top picks and why they're so effective.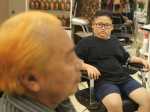 At a barbershop tucked away in a small Hanoi alley, Le Phuc Hai patiently waits for his hair dye to bleach his natural black into the color of the president of the United States.
Style and grooming influencer Alex Costa goes back to basics with tips on how to properly wash your face.
Darlene DiBona of Odyssey Wellness Tattoo specializes in working with people who have undergone mastectomies and gender reassignment surgery.
City officials in Key West voted to ban sunscreens containing two ingredients that scientists have said are harmful to the coral reef ecosystem.
Officials in Key West took the initial steps toward banning the sale of sunscreens containing two ingredients that could be harmful to coral reefs.
Six in ten Americans are plagued by 'winter skin syndrome' according to new research.
Hair stylist Robin James offers easy tips for a fashion-forward style that looks natural yet still holds its shape.
1 thru 10 of 1360 Stories