Top Story
Democrat Joe Biden turned his campaign against President Donald Trump toward the economy Thursday, introducing a New Deal-like economic agenda.
1 thru 10 of 53806 Stories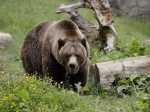 Conservation groups have worked for decades to grow the tiny population of about 10 grizzlies in the vast North Cascades.
Amid a summer of racial unrest and calls for more diversity in leadership, President Donald Trump lags Democratic rival Joe Biden in the percentage of people of color on their campaign staffs.
Voters in Poland on Sunday will decide a tight runoff election between populist incumbent President Andrzej Duda and his liberal pro-European Union challenger, Warsaw Mayor Rafal Trzaskowski.
A pharmacist and a drug abuser who met while playing online video games pleaded guilty Friday to federal charges after they plotted to firebomb a Nebraska pharmacy to benefit their own drug dealing.
A gay player for England's Premier League admitted his fears of publicly coming out in an emotional letter, the British newspaper The Mirror reports.
"We've definitely seen homophobic, heteronormative and racist values seep into AI," says Lesbians Who Tech Founder Leanne Pittsford. Find out how in EDGE's latest investigative feature.
President Donald Trump has commuted the sentence of his longtime political confidant Roger Stone, intervening in extraordinary fashion in a criminal case that was central to the Russia investigation.
Friday was supposed to be the day President Donald Trump's campaign reboot itself got a reboot. Instead, it hit another snag.
Texas today resembles the state in the early days of the coronavirus pandemic. Except now, the outbreak is far worse.
Three officers were fired Friday over photos showing police reenact a chokehold used on Elijah McClain, a 23-year-old Black man who died last year after police stopped him on the street in a Denver suburb.
1 thru 10 of 53806 Stories