1 thru 10 of 6794 Stories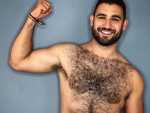 When Mr. Gay World 2020 had to be put off to next year, the plan was for first runner-up from 2019 to serve an interim term. Then an ironic twist emerged - one with a heroic tinge.
A Polish prosecutor has charged an IKEA manager with violating the religious rights of an employee sacked for voicing strong objections, within the company, to a corporate event supporting tolerance for LGBT people last year.
For LGBTQ immigrants already living tremendously marginalized and precarious lives, the deadly pandemic is adding even more layers of danger and uncertainty.
The strongman leader of Russia's province of Chechnya went live on Instagram Wednesday to insist that he was feeling well, in an apparent attempt to dispel media reports about his hospitalization with COVID-19.
The president of Zambia has announced a pardon for a same-sex couple that had been sentenced to 15 years in prison for the crime of being in a loving relationship.
Manaus is one of the hardest hit cities in Brazil, which officially has lost more than 23,000 lives to the coronavirus. But the toll is likely a vast undercount.
Costa Rica is expected to become the latest country to legalize same-sex marriage early Tuesday when a ruling from its supreme court goes into effect ending the country's ban.
As Brazil and India struggle with surging coronavirus cases, a top health expert is warning that the world is still smack in the middle of the pandemic, dampening hopes for a speedy global economic rebound and renewed international travel.
With Brazil emerging as one of the world's most infected countries, President Jair Bolsonaro is deflecting all responsibility for the coronavirus crisis, casting blame on mayors, governors, an outgoing health minister and the media.
British leader Boris Johnson's powerful chief aide insisted Monday that he wouldn't resign for driving the length of England while the country was under strict lockdown — a trip he made without informing the prime minister first.
1 thru 10 of 6794 Stories