Out first-time political candidate Eric Morrison prevailed in the Delaware primary over a Democratic state lawmaker who had lambasted him for performing in drag.
Joe Biden went after President Donald Trump again and again over his handling of COVID-19, calling Trump's downplaying of the pandemic "criminal" and his administration "totally irresponsible."
Transgender activist Sarah McBride won a Democratic state Senate primary in Delaware on Tuesday and is poised to make history as the first transgender person elected to the state's General Assembly.
When billionaire Mike Bloomberg ended his presidential campaign in March, he pledged to spend "whatever it takes" to help Democrats defeat President Donald Trump. Less than two months before the election, he's finally coming through.
President Donald Trump denied during a televised town hall that he had played down the threat of the coronavirus earlier this year, although there is an audio recording of him stating he did just that.
Even though Scientific American had never endorsed a presidential candidate in the magazine's 175-year history, its top editor said Tuesday there was little internal debate over a decision to back Democrat Joe Biden.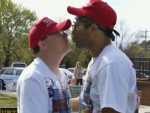 What may be surprising is a poll of 1,200 queer men in the United States found that 45% planned on voting for Republican President Donald Trump.
When trans anarchist Aria DiMezzo won the GOP spot for sheriff in New Hampshire last week, the party didn't quite know how to respond.
Voters have a unique opportunity in Tuesday's primary elections to upset the political status quo and change the trajectory of the Democratic Party in solid-blue Delaware.
Democrat Joe Biden is assembling a team of top lawyers in anticipation of court challenges to the election process that could ultimately determine who wins the race for the White House.