Kenneth Felt, 90, explains to BBC why he decided to come out to his daughter late in life.
Former "ex-gay" leader, who came out in 2015, announces marriage to man.
In honor of Pride, the jewelry company Shane Co. put together a comprehensive list of what are the most popular LGBTQ movies from state to state.
Two Paris gay bars were targeted with graffiti of swastikas over the past week.
The Unique Woman's Coalition announced that it will be holding their virtual fundraiser event Unique Woman's Coalition Community Celebration on July 11 at 3pm PT / 6pm ET. The event will feature musical performances from notable black trans artists.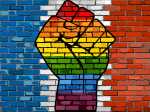 While the French capital's official Pride event was delayed until November to prevent spread of the coronavirus, grassroots groups plan a march through Paris anyway Saturday — led by people of color.
The Atlanta Pride Committee has announced that the 2020 Pride Festival will not be held in person due to the ongoing pandemic. Instead, the festival will be held as a virtual event.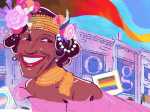 If you use Google today (June 30), you'll notice the company's latest doodle honors transgender activist Marsha P. Johnson.
The Central African country of Gabon has taken steps toward decriminalizing LGBTQ people.
While Pride may have been cancelled, a group called The Reclaim Pride Coalition held their own Queer Liberation March on Sunday in New York City, drawing a crowd of more than 2,000 who partied on Christopher Street well into the early hours.