Gay Minneapolis-St. Paul: The Latest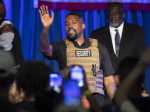 Rapper Kanye West has qualified to appear on Arkansas' ballot this fall as an independent presidential candidate, Secretary of State John Thurston said Tuesday.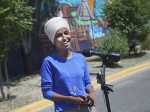 Rep. Ilhan Omar of Minnesota survived a stiff Democratic primary challenge from a well-funded opponent who tried to make an issue of her national celebrity, the latest in a string of victories by a new generation of emboldened progressive lawmakers.
Kamala Harris' selection is historic in many senses. It also marks the first time an Asian American would be on the presidential ticket. B
At least 49 state and local public health leaders have resigned, retired or been fired since April across 23 states.
Geo-locating social networking and gay/bi/queer/trans dating app Grindr has partnered with The UrSafe App in order to increase persona safety measures in LGBTQ+ dating.
Twitter is reacting to the news that Joe Biden has chosen Sen. Kamala Harris as his running mate. Here are some of the responses.
Rolling Stone reports that in the video for their new single "Nerves of Steel," British synth-pop icons Erasure will feature a plethora of "RuPaul's Drage Race" alum.
Wondering what Kamala Harris has in store for the debate stage, social media and podium? Take a look at nine of our favorite KH Instagram moments.
Joe Biden named California Sen. Kamala Harris as his running mate on Tuesday, making history by selecting the first Black woman to compete on a major party's presidential ticket.
Superstar Zac Efron ("Hairspray" and "High School Musical") has signed on to star in a remake of the 1987 hit film "Three Men and a Baby" with Disney.
A restraining order has been placed on the President of Fisk University Dr. Kevin Rome, Sr. after a person he used to date told police he did not feel safe around him, a Nashville television station reports.
Most media analysts were upbeat about how "Hamilton" would perform when streamed last month, but many were surprised by the size of its audience.
McDonald's says it's suing Stephen Easterbrook, the CEO it ousted last year over an inappropriate relationship with an employee, alleging Monday that he covered up relationships with other employees and destroyed evidence.
Several months after RuPaul deleted Twitter and scrubbed his Instagram clean, Page Six is reporting why the "Drag Race" host left social media.
Numerous insurers across the country have announced plans to hike rates next year, though some have proposed cuts.
With interest rates at record lows, is it still worth leasing a new car? We took a look at the financial outcomes of buying and leasing to see how current finance trends might affect your decision.
A study of 2,000 females found fringe trims, leg waxing and applying eyelashes are among the things they have tried to carry out themselves.
As coronavirus cases surge — and dire shortages of lifesaving protective gear like N95 masks, gowns and gloves persist — the nation's health care workers are again facing life-threatening conditions in Southern and Western states.
New Jersey has a reputation for being highly LGBTQ friendly. Here are some of the top things to do in New Jersey this summer that are inclusive of the LGBTQ community.
Provincetown Carnival attracts somewhere near 80,000 people to the town for the celebrations - something impossible in this year of COVID. The event was scheduled to begin this Friday. Here's a look back at carnival past - part 1 of 2.