Gay Minneapolis-St. Paul: The Latest
"Many older patients are having trouble organizing themselves and planning what they need to do to get through the day," said Dr. Zijian Chen. "They're reporting that they've become more and more forgetful."
LGBTQ Catholics and their allies in the U.S. welcomed Pope Francis' endorsement of same-sex civil unions, the first time he's done so as pontiff, while some prominent members including a bishop said he was blatantly contradicting church teaching.
James Randi, a magician who later challenged spoon benders, mind readers and faith healers with such voracity that he became regarded as the country's foremost skeptic, has died, his foundation announced. He was 92.
Pope Francis' endorsement of same-sex civil unions drew mixed reactions Thursday in the Philippines, Asia's bastion of Catholicism, with a retired bishop saying he was scandalized by it while an LGBT group welcomed the pontiff's remarks with relief.
Bad Bunny and Daddy Yankee triumphed at the Billboard Latin Music Awards Wednesday, claiming seven trophies apiece at the pandemic-delayed show.
Short-video app Quibi said it is shutting down just six months after its early April launch, having struggled to find customers.
After meeting last month in perhaps the most chaotic debate in modern history, President Donald Trump and his Democratic rival, Joe Biden, will take the stage Thursday to give it another go.
LA Log Cabin Republicans are urging gay Trump supporters and housewives to meet for a very short march in West Hollywood on Friday.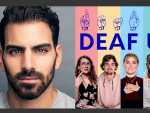 Nyle DiMarco's new show gives Gallaudet students a deaf reality show, COBRA's futuristic disaster series chills, and "First Day" introduces a trans teenager to high school life.
Halloween is synonymous with The Boulet Brothers, the LA-based duo whose "Dragula" competition show is a Netflix hit. This year they are doing something different & talk about their Shudder special, 'Dragula: Resurrection.'
The global hunt for a COVID-19 vaccine for kids is only just beginning — a lagging start that has some U.S. pediatricians worried they may not know if any shots work for young children in time for the next school year.
British pop singer Sam Smith recently opened up about how their struggle with body dysmorphia led to coming out as non-binary last year.
Stoli commemorates LGBTQ History Month by presenting The Legacy Project's LIVE Global Broadcast on October 11 and releasing a new music single and video, "Stoli Serves Pride" by #1 Billboard artist Debby Holiday.
A new smartphone app could make it easier for international airline passengers to securely show they've complied with COVID-19 testing requirements
Months after vowing to process a backlog of 160,000 requests for loan forgiveness from students who say they were defrauded by their schools, the U.S. Education Department has rejected 94% of claims it has reviewed.
Seven auto companies have plans to roll out new battery-powered pickup trucks over the next two years, aiming to cash in on a popular and lucrative market for expensive vehicles.
It's that time of the year again! In case 2020 isn't scary enough for you - here are five Halloween cocktails straight out of your nightmares!
U.S. health officials Wednesday redefined what counts as close contact with someone with COVID-19 to include briefer but repeated encounters.
Grab your weekender bag and get out of town. The leaves are turning, and there's a small window of time to take in Mother Nature's annual fashion makeover.
Sex workers have been saying they face significant violence from police and clients for decades and it is time that we all listen to these voices when determining how to improve safety for sex workers," says an ACLU representative.