Gay Minneapolis-St. Paul: The Latest
While some of the major films at 46th Toronto International Film Festival are only being screened in person, there is plenty of excellent fare made available for critics. Here are some choices.
Before he wore his sexy ankle-length black dress for the Met Gala, Troye Sivan took some pics in his hotel room as he got ready and posted the snaps to Instagram.
The first-ever hybrid edition of NewFest's flagship festival will include a stunning program of 130+ new features and short film premieres playing in-person at theaters throughout New York City and streaming on-demand nationwide.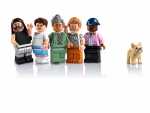 Lego revealed its fierce and fabulous new "Queer Eye" set, featuring minifigures of the Fab Five, Tan France, Bobby Berk, Antoni Porowski, Karamo Brown, and Jonathan Van Ness.
The Gay Games that were slated for next year in Hong Kong have been pushed back to 2023 due to concerns around the ongoing COVID-19 pandemic.
Last summer, Matthew Paul Turner, a New York Times best-selling Christian children's book author, announced he was gay and ending his 15-year marriage.
Expect to see out actors Billy Eichner and Luke Macfarlane on the streets of Ptown this week where they will be filming Eichner's gay rom-com "Bros".
This year's celebration of Carnaval des Couleurs will be a multicultural celebration filled with fun and activities.
The largest festival of its kind in the Pacific Northwest will be a hybrid of both virtual and in-person screenings at various venues.
Where does a trans man still dealing with his gender confirmation treatment go to be treated for alcohol addiction? Inspire Recovery offers LGBTQ+-affirming care, which can make all the difference in maintaining long-term sobriety.
An Australian entomologist has given the name Opaluma rupaul to a newly discovered species of soldier fly, a metallic-looking, rainbow insect he says earned the name for "serving fierce looks."
Cloris Leachman's exquisite swan song is poignant and affecting.
Carnival Corp., once a $21 billion company, saw revenue plunge to zero overnight last year when the pandemic shut down the cruise industry. It's CEO Arnold Donald's job to navigate uncharted waters for the cruise giant, which operates nine brands.

Apple unveiled its next iPhone line-up, including a model that offers twice the storage available in earlier versions and other modest upgrades to last year's editions that proved to be a big hit among consumers.
When the nonessentials threaten to put your finances in jeopardy, it's important to keep your financial goals on track. Here are five strategies to help you navigate impulse spending.
With all the developments in the auto industry you may think your next car will be electric. The experts at Edmunds examin some of the most prevalent EV myths.
Sexy, sophisticated and occasionally daring, New York Fashion Week continues to push boundaries in men's fashion with established and up-and-coming designers breaking the binary.
Overwhelmed by a surge in COVID-19 patients, Alaska's largest hospital on Tuesday implemented crisis standards of care, prioritizing resources and treatments to those patients who have the potential to benefit the most.
Sequoia National Park is shut down, its namesake gigantic trees potentially threatened by two forest fires burning in steep and dangerous terrain in California's Sierra Nevada.
No other event in NYC comes close to the level of extravagant splurge of creativity than Bushwig. Two full days of incredible performances, lewks and camaraderie.