Gay Minneapolis-St. Paul: The Latest
As the Supreme Court court weighs the future of the landmark 1973 Roe v. Wade decision, a resurgent anti-abortion movement is looking to press its advantage in state-by-state battles while abortion-rights supporters prepare to play defense.
The Queens and Kings of San Francisco brought their gay appeal to the Union Square ice-skating rink along with plenty of holiday cheer. Guest appearances included Denali Foxx from RuPaul's Drag Race and Brian Boitano.
A judge imposed a combined $1 million bond Saturday for the parents of the Michigan teen charged with killing four students at Oxford High School, hours after police said they were caught hiding in a Detroit commercial building.
Although the Taliban, who took over Afghanistan in mid-August, had previously banned sports when they ruled the country in the 1990s, pahlawani had been exempt even then.
Most Americans know Native Americans endured atrocities after the arrival of European settlers: wars, disease, stolen land.
Guns used in U.S. school shootings have often come from the homes of young perpetrators, but parents are rarely charged for the violence that occurs, experts say.
Massachusetts congresswoman Ayanna Pressley is upset that her beloved Mariah Carey Christmas album has gone missing,
Aaron Rodgers flaunts the NFL/NFLPA coronavirus protocols and gets a fine that barely shows up in his paycheck.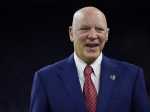 Over the past 100 years, around 110 people have owned controlling portions of NFL teams. Of that select group, all but two have been white.
Denver's winter has started with a whimper, and the parched mountains to the west aren't faring much better.
For more than seven years, no one has known what happened to $600,000 in checks and cash that was stolen from a safe at Pastor Joel Osteen's Houston megachurch,
Recently the 2022 Grammy nominations were announced, and although many artists like Olivia Rodrigo, Billie Eilish, Doja Cat, and Lil Nas X scored nominations in the expected places, there were plenty of surprises and snubs.
Federal health officials are requiring airlines to gather contact-tracing information on passengers heading to the U.S. who have been in southern Africa in the previous two weeks.
Vaccinating kids against COVID-19 also means reducing silent spread, since most have no or mild symptoms.

As Americans shop for the holidays, they will likely see a swarm of offers to get their gifts now but pay for them later in fixed monthly installments.
For three years running, Edmunds' experts have considered the Honda Odyssey one of the top rated in the class. Now there's finally a new rival in town: The 2022 Kia Carnival.

The pandemic-induced supply chain snarls have created unprecedented shortages across all types of products for holiday gift-giving.
A new CDC report shows how HIV/AIDS has impacted African-American and Latinx men who have sex with men.
Orlando continues to rank as one of the most popular destinations for LGBTQ+ travelers. EDGE highlights some of Orlando's newest attractions, restaurants and hotels.
On the eve of World AIDS day, a ceremony was held at the National AIDS memorial in San Francisco. Guest speakers talked about their experience during the HIV/AIDS pandemic, the progress that has been made, and the hope of reaching zero new cases.