1 thru 10 of 26665 Stories
Bitter cold is setting in after a major winter storm blanketed a wide swath of the country in snow, sleet and rain this weekend, creating dangerously icy conditions,
The student who stared and smiled at an elderly Native American protester drumming in his face outside the Lincoln Memorial says he did nothing to provoke the man in the videotaped confrontation and was only trying to calm the situation.
Frigid air and high winds are causing dangerous travel conditions throughout the eastern U.S. after a powerful winter storm pummeled the region over the weekend.
Thirty-one days into the partial government shutdown, Democrats and Republicans appeared no closer to ending the impasse than when it began.
President Donald Trump's lawyer Rudy Giuliani left open Sunday the possibility that Trump and former personal attorney Michael Cohen might have discussed Cohen's congressional testimony.
A major winter storm brought some of the coldest temperatures of the season and covered a large swath of the country in snow as it wreaked havoc on air travel and caused slick road conditions throughout New England Sunday.
Justin Timberlake has pulled some sunshine from his pocket for the patients at a Texas children's hospital.
A diocese in Kentucky apologized Saturday after videos emerged showing students from a Catholic boys' high school mocking Native Americans outside the Lincoln Memorial after a rally in Washington.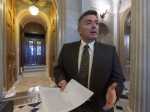 Republican Sen. Cory Gardner helped mastermind the GOP's midterm strategy of pushing Senate candidates closer to President Donald Trump.
In a bid to break the shutdown stalemate, President Donald Trump offered to extend temporary protections for young people brought to the U.S. illegally as children and those fleeing disaster zones in exchange for his long-promised border wall.
1 thru 10 of 26665 Stories