1 thru 10 of 27186 Stories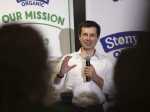 There are no policy positions on his website. He has virtually no paid presence in the states that matter most. And his campaign manager is a high school friend with no experience in presidential politics. Welcome to the campaign of Pete Buttigieg.
The 1998 death of James Byrd Jr. was one of the most gruesome hate crimes in U.S. history. The town's past will be revisited this coming week, when the convicted ringleader in Byrd's slaying is scheduled to be executed.
City officials say a tiger mauled a zookeeper at the Topeka Zoo in northeastern Kansas. A Sumatran tiger named Sanjiv tackled the worker in an enclosed outdoor space.
Seven Utah lawyers are violating rules of conduct because they are polygamists, according to a new complaint filed with the Utah Bar Association.
The Cook County state's attorney says she won't comment further on the Jussie Smollett case in Chicago until a county inspector general finishes his review of prosecutors' decision to drop charges against the "Empire" actor.
A roundup of some of the most popular but completely untrue stories and visuals of the week. None of these is legit, even though they were shared widely on social media. The Associated Press checked these out. Here are the real facts.
An arsenal of new technology is being put to the test fighting floods this year as rivers inundate towns and farm fields across the central United States.
President Donald Trump's spokeswoman Sarah Sanders pushed back Friday against allegations that special counsel Robert Mueller's Russia report exposed a culture of lying at the White House.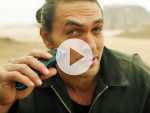 "Aquaman" is clean-shaven.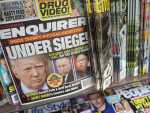 The National Enquirer is being sold to the former head of the airport newsstand company Hudson News following a rocky year in which the tabloid was accused of burying stories that could have hurt Donald Trump's 2016 presidential campaign.
1 thru 10 of 27186 Stories