1 thru 10 of 6762 Stories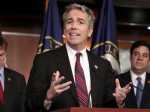 Joe Walsh, a former Illinois congressman ad tea party favorite turned radio talk show host, announced a longshot challenge Sunday to President Donald Trump for the Republican nomination in 2020, saying the incumbent is "completely unfit" for office.
As a young scholar, Elizabeth Warren traveled to federal courthouses, studying families overwhelmed by debt. She tried to answer one question: Why were these folks going bankrupt?
From the economy to veterans and immigration, Trump routinely claims achievements of former president Barack Obama as fully his own or distorts the truth to undermine the Democrat's legacy. On problems uniquely his own, Trump deflects.
The Democratic presidential field is shrinking but not quickly enough to ward off the prospect of a long, bruising fight for the nomination.
The U.S. government on Friday announced changes to the agency that runs the country's immigration courts, giving its director authority to weigh in and make appellate rulings on cases.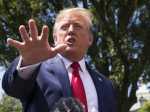 President Donald Trump raised some eyebrows earlier this week when he glanced heavenward and referred to himself as "the chosen one" to take on China. He took the comment back Friday.
A city council candidate in Michigan said Friday she has no plans to end her campaign after shocking a public forum when she said she wants to keep her community white "as much as possible."
Pete Buttigieg's campaign has struggled to reach African-American voters. A recent campaign event in a historically African-American neighborhood that drew mostly whites was a reminder of that persistent disconnect.
Ottawa Mayor Jim Watson came out of the closet at the age of 58 last week, just in time for that city's Pride celebrations. Since then, he says, he's gotten many supportive messages - but also some that aren't quite so kind. He isn't backing down.
The Trump campaign has a message for its female supporters: It's time to come out of hiding.
1 thru 10 of 6762 Stories