1 thru 10 of 6281 Stories
Long-term caregiving has emerged as one of the major issues in California's Capitol this year — an issue facing states across the nation.
Leading House Democrats, backed by Speaker Nancy Pelosi, are unveiling broad legislation to shore up the Affordable Care Act.
Democratic presidential hopeful Pete Buttigieg is riding in the back of a rented minivan to his last event of the day in South Carolina, munching on cold french fries and critiquing his stage performance so far.
President Donald Trump on Monday accused those responsible for launching the special counsel investigation of "treasonous things" and said they "will certainly be looked at."
An openly gay hopeful for the 2020 presidential election surprised pollsters by coming in third in a poll released over the weekend.
Democratic presidential hopeful Pete Buttigieg told voters Saturday that his marriage to his husband exists "by the grace of a single vote on the U.S. Supreme Court."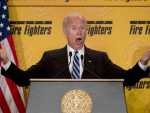 Joe Biden says he has "the most progressive record" of any Democrat running, or mulling a run, in 2020. But many progressive activists disagree.
President Donald Trump is intensifying his efforts to discredit a highly anticipated report on the special counsel's Russia investigation.
By the time California's presidential primary election arrived in 2016, Bernie Sanders was a beaten man. This time around, everything has changed.
The Trump administration and coal industry allies are insisting that a federal black lung trust fund will continue to pay benefits to sick miners despite a drastic cut in funding.
1 thru 10 of 6281 Stories