Mayor Pete Muzzled by Media Company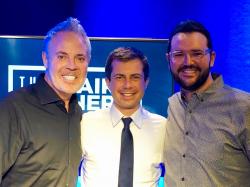 Cumulus Media's slogan is, "Where Every Voice Matters."
Unless, that is, you happen to be an openly gay Democrat who has his sights on taking the White House in next year's elections.
Country radio talk show host Blair Garner — a highly respected radio personality and an inductee to the Country Radio Hall of Fame — sat down for a chat with Pete Buttigieg in Nashville. The result was a 20-minute interview. But listeners tuning in to Garner's show won't hear the interview — because Cumulus Media, which employs Garner, refused to allow him to broadcast it, numerous outlets including CNN, reported.
The reason?
Cumulus Media offered the rationale that with so many prospective Democrats in the race to become the party's candidate for president next year, the company would be bound by the "Equal Time Rule" to host all of them.
"The decision was made by local programming management based solely on concerns related to the application of the FCC's Equal Time Rule," the company said via a spokesperson, CNN reported. "The effects of the FCC's Equal Time Rule are widely understood and considered whenever these types of issues arise."
Experts say that's nothing but an excuse — and a pretty lame one at that.
Calling Cumulus Media's explanation "flat wrong," Dylan McLemore, a professor of communications, pointed out on Twitter that "The equal time rule is indeed 'widely understood' ... to NOT include 'bonafide news interviews,' even by entertainment hosts like Garner," CNN noted, going on to add, "Look, Jimmy Fallon isn't playing with Donald Trump's hair if it means NBC has to give equal time to Gary Johnson, Jill Stein and every other candidate that won't score them ratings."
Added McLemore, "But equal time doesn't apply" in this case or any case like it. "Cumulus knows this," McLemore posited. "So what's the real reason?"
Garner says his show is not political, and he agreed to the Buttigieg campaign's query about an interview because Buttigieg was the only candidate of either party who, it seems, even thought about wanting to reach out to Garner's audience.
At his SoundCloud page, Garner testifies: "I'm not a political guy. My radio show isn't political, nor does it aspire to be that.
"I'm just the host of a syndicated Country music program who loves his country - both the amazing land in which we live and the outstanding music from today's Country artists."
Garner goes on to add, "I was stunned when we were contacted by Mayor Pete's team requesting an interview. Absolutely stunned.
"Since Country music tends to lean in a conservative direction, I was surprised. But more than surprised, I was EXTREMELY flattered. One of the few truly viable candidates in the race raised his hand and asked for a place at the table. I was willing to give him that seat."
Garner makes a point of saying that anyone who'd asked could have had a seat at his table — the others just didn't ask. But not only Buttigieg think enough of Garner's audience to want to reach out to them, he also had no hesitation when it came to accepting Garner's sole condition for doing the interview: That any and all candidates, be they Republican or Democrat, "must also value and appreciate our listeners, and never treat them like pawns in a game."
Garner then talks about how word came down from the top that he would not be allowed to broadcast his chat with Mayor Pete.
"Again, I would have GLADLY welcomed any other viable candidates to be a guest, especially President Trump," the talk show host reiterates. "To my thinking, the best way to a reasoned, thoughtful position on any topic, is to hear from both sides. Regardless, the interview was killed."
Garner also took his story to Twitter and shared it there.
My interview with @PeteButtigieg. The only candidate who asked to be on my show. My employer decided I couldn't air it - but I did get permission to post it on my personal Soundcloud here: https://t.co/Sqi0bOTyQ1 @Lis_Smith pic.twitter.com/0K88w3cA49— Blair Garner (@blairgarner) July 19, 2019
Someone else who was present in the studio when the interview took place was Keith Bardella, who is the publisher of "The Morning Hangover," an email newsletter about country music. Bardella didn't mince words when he spoke out about Cumulus Media's decision to muzzle Mayor Pete.
"This is an incredible act of cowardice for a company whose slogan is 'Where Every Voice Matters,' " CNN quoted Bardella as saying.
Bardella penned an op-ed for USA Today in which he described the chat Garner and Buttigieg enjoyed, and recollected that they discussed, among other things, a "hope for civility" and the meaningful topics of "faith. Family, and values." He also noted that it was remarkable that Buttigieg would ask to come on the show, given that country music listeners are "written off, even mocked, by the political class in Washington."
Wrote Bardella: "For all the lip service politicians give us about reaching out beyond our comfort zones and being more inclusive, here was a leading presidential candidate putting his money where his mouth was. I can't recall a time where I saw any presidential candidate, especially a Democrat, think to reach out to country radio to ask for an opportunity to have an open conversation with that audience."
Buttigieg's campaign told political news outlet The Hill why the Democratic candidate felt he needed to speak with Garner and his audience, with a spokesperson explaining that Buttigieg has "made it a point on this campaign to go outside the traditional political media bubble," and adding, "It was a great discussion and we are obviously disappointed that Blair's listeners won't have the opportunity to hear it."
Cumulus did consent to allow Garner to post the interview at his SoundCloud page, where it can be heard.
Click the link below to listen to Blair Garner's conversation with Mayor Pete.
https://soundcloud.com/user-755551091/blair-garner-mayor-pete
Kilian Melloy serves as EDGE Media Network's Assistant Arts Editor. He also reviews theater for WBUR. His professional memberships include the National Lesbian & Gay Journalists Association, the Boston Online Film Critics Association, The Gay and Lesbian Entertainment Critics Association, and the Boston Theater Critics Association's Elliot Norton Awards Committee.
Comments on Facebook