Watch: Mayor of Pennsylvania City Changes Mind, Okays Pride Flag at City Hall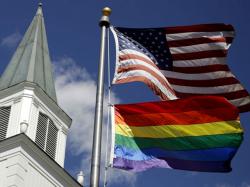 The mayor of a city in eastern Pennsylvania says that after meeting with a member of the LGBTQ community and hearing her heartfelt story, he has changed his mind and will now give the go-ahead for the Pride flag to fly above city hall, reports regional news channel WFMZ.
Reading, Pennsylvania Mayor Wally Scott had initially declined a request to allow the flag to be hoisted above city hall because he felt that the flag represented a "political movement," the news channel reported. But after meeting a woman (not identified in the story) who told him about the time she came out to her mother, Mayor Scott reconsidered.
"She said her mother grabbed onto her and hugged her and said, 'God doesn't make mistakes,'" Mayor Scott told the media. "That moved me."
Mayor Scott's refusal made headlines and caused controversy on a national level, news reports said. But Scott's initial rejection of the idea was not motivated by anti-LGBTQ sentiment, he explained; rather, it was borne of experiences in which he had been approached to fly the Confederate flag or, in another instance, a flag for "National Weed Day."
"A lot of people don't realize how many people come here to try and fly a flag," Mayor Scott said.
The mayor first announced his change of heart in a Facebook post, reported The Philadelphia Inquirer.
The mayor said that he still wanted "to keep the politics out of it."
"What I am interested in is that the people that the flag represents have suffered," Mayor Scott said.
Local equality advocates expressed appreciation for the mayor's support.
"Education is our primary purpose and today's events highlight the importance and value of interpersonal relationships in changing attitudes and policies at the local level," said Michelle Dech, the executive director of The LGBT Center of Greater Reading.
Watch a news clip from local ABC affiliate Channel 6 below.
Kilian Melloy serves as EDGE Media Network's Assistant Arts Editor. He also reviews theater for WBUR. His professional memberships include the National Lesbian & Gay Journalists Association, the Boston Online Film Critics Association, The Gay and Lesbian Entertainment Critics Association, and the Boston Theater Critics Association's Elliot Norton Awards Committee.
Comments on Facebook