Two Catholic high school teachers who "voluntarily resigned" may only have had a choice about when, not whether, to leave their jobs, news reports indicate.
Medical schools are beefing up education on LBGTQ health issues. And some schools are making a major push to recruit LGBTQ medical students, backed by research showing that patients often get better care when treated by doctors more like them.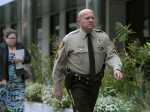 A St. Louis County police lieutenant who was passed over for promotion 23 times said he has no plans to leave the department after he settled a discrimination lawsuit for $10.25 million.
St. Louis County has agreed to a $10.25 million settlement with a gay police lieutenant who says he was passed over for promotion 23 times and was told to "tone down" his "gayness."
The police chief in St. Louis County announced Monday that he is leaving the department, months after his leadership was called into question after a gay officer was awarded $20 million in a discrimination lawsuit.
The Washington Post has placed a political reporter on administrative leave after she tweeted a link to a story about rape allegations against NBA superstar Kobe Bryant, who was killed Sunday.
The head of Hallmark's media business is leaving the company after 11 years, just a month after its flagship Hallmark Channel faced an outcry over a decision to pull an ad with a lesbian couple kissing.
A federal judge on Thursday indefinitely blocked a new California labor law from applying to more than 70,000 independent truckers, deciding that it is preempted by federal rules on interstate commerce.
State lawmakers are poised to take a major step toward making Virginia the critical 38th state to ratify the Equal Rights Amendment to the U.S. Constitution.
The federal government's 2.1 million employees will get paid parental leave for the first time, a galvanizing moment in the growing movement to bring the benefit to all U.S. workers.