1 thru 15 of 2312 Stories
Today there is growing support for bicycling in many U.S. cities for both commuting and recreation. Research is also showing that urban trees provide many benefits.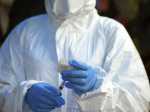 The World Health Organization says Ebola has spiked in Congo in recent days because of "increased security challenges," a week after its director-general predicted the outbreak might be contained within six months.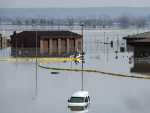 The Missouri River floodwater surging on to the air base housing the U.S. military's Strategic Command overwhelmed round-the-clock sandbagging by airmen and others. They had to scramble to save sensitive equipment, munitions and dozens of aircraft.
Earth's ultimate survivors can weather extreme heat, cold, radiation and even the vacuum of space. Now the U.S. military hopes these tiny critters called tardigrades can teach us about true toughness.
Unsafe drinking water, not climate change, is the world's most immediate public health issue, Environmental Protection Agency administrator Andrew Wheeler contended Wednesday.
Many gardeners are trying to help declining pollinator populations by providing them with the plants they need to thrive.
Fall armyworms, a longtime American pest, are munching their way around the globe, raising alarm now in Asia after entrenching themselves in Africa.
Japan's space agency said Monday that its Hayabusa2 spacecraft will follow up last month's touchdown on a distant asteroid with another risky mission.
It's widely known that languages evolve as societies develop and change, but the sounds we utter are also shaped, literally, by the placement of our jaw — and that is influenced by how we chew our food.
Did people domesticate dogs or was it the other way around? And why do these two species seem to think so much alike, act so much alike and get along so well?
The science behind 23andMe's new diabetes risk score may provide more questions than answers.
Earth is sick with multiple and worsening environmental ills killing millions of people yearly, a new U.N. report says. But it may not be too late.
Dozens of species of sea slugs, jellyfish and other marine life from toastier southern waters migrated into the Northern California region over an unusually long two-year period of severe heatwaves, says a new scientific report.
A British-led scientific mission to document changes taking place beneath the Indian Ocean has broadcast its first live, television-quality video transmission from a two-person submersible.
African-Americans and Hispanics breathe in far more deadly air pollution than they are responsible for making, a new study said.
1 thru 15 of 2312 Stories