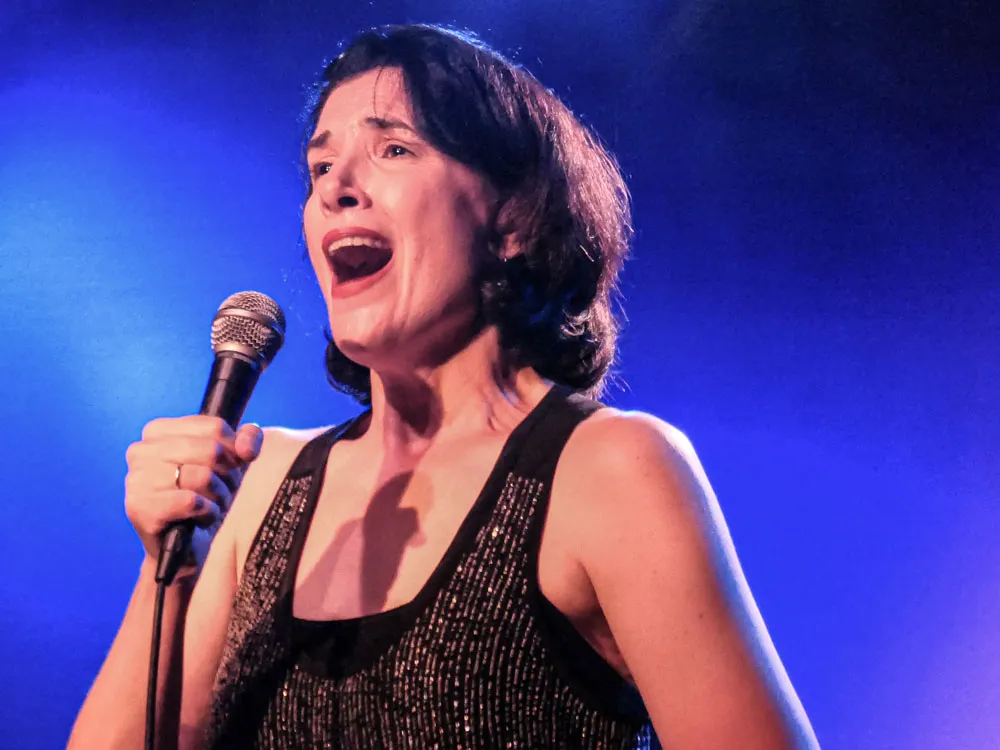 With Upcoming Show, Cabaret's Meg Flather Finds Diversity in Rodgers & Hammerstein's Canon
"If Rodgers & Hammerstein had lived longer, I'd like to think they would have addressed LGBTQ issues in their musicals," says Broadway World, Bistro, and MAC Award-winning singer-songwriter Meg Flather. "They were that progressive. They had addressed other serious social issues of the day. They would have gotten to this, too. Maybe not as boldly as we'd like, because they still had to be commercial." Flather has spent the past several years examining the entire Rodgers & Hammerstein songbook, certain that what they had to say during their 1942-1960 partnership still resonates strongly in today's world.
When Flather gets talking on the subject, you are immersed in her world that swirls with biographical facts, social issues, and personal anecdotes as educational as a university seminar, as socially relevant as a TED Talk and as entertaining as having drinks with Bette Midler or Patti LuPone. Flather felt this was a story that had to be told to an audience, and built an entire show around it, mining gems from the Rodgers & Hammerstein trove. After a year of performing this show in various venues in and around New York City, and most recently at Provincetown's CabaretFest this past June, Flather makes her Boston debut with "Rodgers & Hammerstein 2021+" at Josephine's Cabaret at Club Café's Napoleon Room on November 15, 2022.
The team of Richard Rodgers and Oscar Hammerstein II is often considered the greatest Broadway songwriting team of the 20th century. They found one another after decades of writing with other collaborators, and with numerous successful shows already under their belts. Composer Rodgers had written numerous shows with lyricist Lorenz Hart, including "Babes in Arms," "The Boys from Syracuse," and "Pal Joey." Lyricist Hammerstein II had already had great success with composer Jerome Kern on "Showboat" and "Sweet Adeline."
When Rodgers and Hart were approached in 1942 to write a musical based on the play "Green Grow the Lilacs," Hart passed on the opportunity to begin work on it, being far more interested in heading off to Mexico, where he would begin to slowly drink himself to death, returning too ill to work on the project. During Hart's illness, Rodgers approached Hammerstein II to collaborate on the project with him. Hammerstein II accepted, and the musical opened in 1943 on Broadway as "Oklahoma!" to enormous success. Together the pair would advance what became known as musical drama and write a string of hit Broadway musicals that began with "Oklahoma!" and continued with "Carousel," "South Pacific," "The King and I," "The Sound of Music" and television's "Cinderella," that all but defined American musical theater.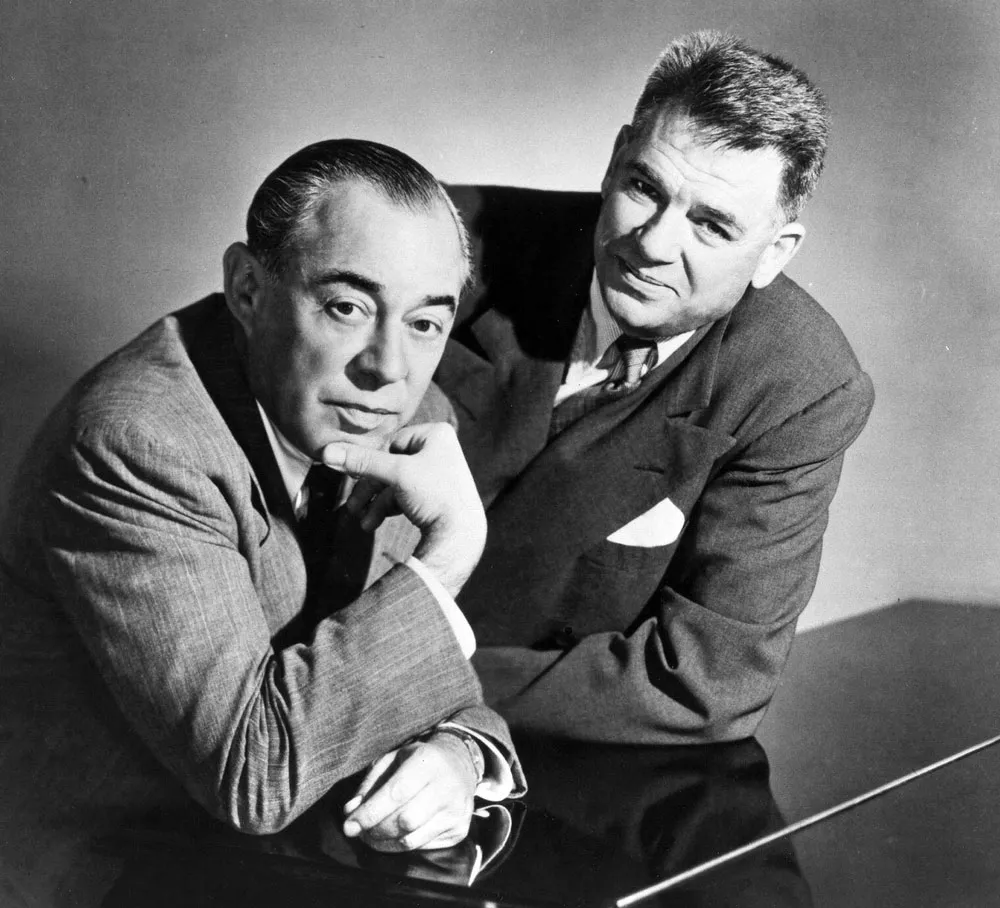 While conventional thought categorizes Rodgers & Hammerstein musicals as sentimental, sugar-sweet, and dated, people have begun to examine their work through the lens of social issues that the world was grappling with at the time. Todd Purdum, a political writer, was one of the pundits who examined domestic violence in "Carousel," classism in "Oklahoma," racism in "South Pacific," and sexism/authoritarianism in "The King and I," which he then featured in his book "Something Wonderful: Rodgers & Hammerstein's Broadway Revolution." When the performer and producer KT Sullivan learned Flather was considering doing a show on Rodgers & Hammerstein, she recommended Purdum's book, which became one of many touchstones for Flather's show.
The origins of Flather's show are quite organic, and she often says, "The show happened to me!" Flather has been a fixture in the New York cabaret world since the early '80s, where she worked as a singing waitress at the original Duplex's downstairs piano bar. Flather established herself as a singer-songwriter, amassing eight recordings of her original songs, and presenting herself more in the Joni Mitchell mold, rather than that of a Rodgers & Hammerstein ingenue. "In my cabaret shows, I typically mix my own songs with contemporary cabaret and musical theater songs," notes Flather. Even though musical theater was in her blood, Rodgers & Hammerstein's work was not well represented in her repertoire.
But in 2016, while rehearsing an earlier cabaret show in the back room of Manhattan cabaret bar "Don't Tell Mama," cabaret singer-songwriter Ricky Ritzel, who was working the bar, overheard her and approached her with a proposition. "He said, 'Will you be my Maria in a production of 'The Sound of Music' that I'm working on?'" recalls Flather. "I told him, 'I'm a 50+ year-old woman!' but I said yes, anyway. Being a singer-songwriter, I always studied songs through current events, so I did that with Maria's songs." Flather was pleasantly surprised at how these songs began to sparkle and resonate with relevance once you dust them off and look at them through a contemporary lens. This, along with Sullivan's recommendation to read Purdum's book prompted Flather to dig deeper into their larger songbook.
Flather was always predisposed toward diversity, being born in the Philippines to American Peace Corp parents and raised there until the age of 5. "I was their love child that they didn't need," says Flather with chagrin. "Amidst the pandemonium, they would get me to nap by playing their collection of musical theater cast recordings." When their Peace Corp term ended, Flather's family moved to Sudbury, Massachusetts, where Flather admits, "These albums were my lifeline." Convinced she was headed for a life on the stage, Flather attended the High School of Music and Art in Harlem, and NYU's Tisch School of the Arts. "But As a 5'-9" woman, I knew I would have trouble working in musical theater, except as the wife in 'Nine,' laments Flather. "And now Karen Akers, [who played the wife in the original production of "Nine"], is my friend, and we laugh about that." So, cabaret became a place where she could perform and be her authentic self.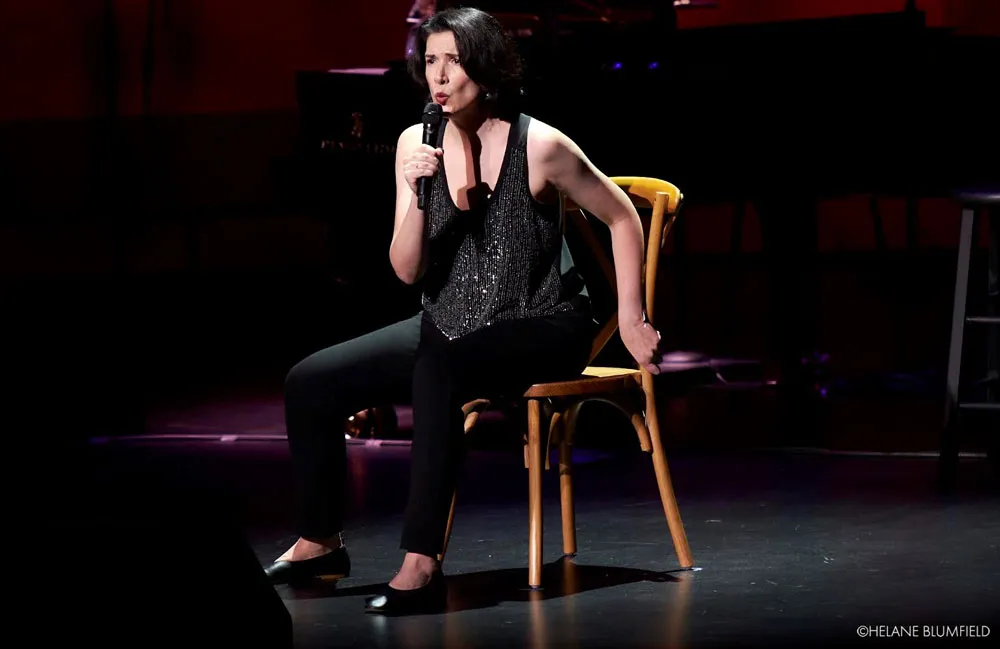 Even with a background of white privilege, Flather had enough of that sense of being other, being singled out, and excluded that it was easy for her to tap into the social issues woven into the works of Rodgers & Hammerstein. "I love exploring their humanity – what was broken about them and what was human about them," regales Flather. "They had father issues, there was drug abuse and alcoholism, and they were apart from their own families a lot. Sondheim probably got more from Hammerstein than Hammerstein's own son did."
As she dug deeper, Flather discovered their musicals were not just the homespun Americana considered good "family fare" but out of touch with today's sensibilities. Beneath the surface, they were full of vulnerable men and strong women who were exposed to different cultures, embroiled in domestic violence, miscegenation, racism, classism and sexism – issues still startlingly relevant today. Purdum's book devoted each chapter to a single Rodgers & Hammerstein musical, examining each song, character, and plot line for socio-political issues. "I was excited, like they were talking through me. I had my theme!" exclaims Flather. "I went chapter by chapter, show by show by show and explored each show to find the hidden gems, especially their misses. I know as a singer-songwriter, their misses might contain some jewels, like in 'Pipe Dream,' 'Me and Juliet,' and 'Allegro.' "
Flather pulled in director Lennie Watts and musical director Tracy Stark to work with her on the show, and by late 2019, she was finally ready to perform it. But she was so deep into the research that there was a danger the show could become too didactic. "I didn't want this to be another Wikipedia show about composers and lyricists," asserts Flather. "But I was initially performing the show like a term paper." As she was getting ready to continue performing the show in early 2020, COVID shut down all live performances. "In fact, it was a blessing that the pandemic made me wait. The show needed to marinate," admits Flather. "Lennie said I needed to perform the songs as if I wrote them. So, I practiced just that, offering Zoom performances for my relatives in Newton. It was such a bizarre gift to lean on this show during quarantine, going through Black Lives Matter, and the songs kept becoming more and more relevant."
By the time live performing returned in summer 2021, Flather was ready to take her new show on the road. She has been performing it monthly at Don't Tell Mama, at various hotel and guest house venues throughout the tri-state area, and this past June at CabaretFest in Provincetown, to rave revues. Broadway World proclaimed, "I think Rodgers & Hammerstein would be proud to see the drama restored to their work. Meg Flather gets to the heart of what is exciting about their collaborations. It is a smoldering optimism in a world of seemingly insurmountable challenges."
Theater Pizzazz announced, "Flather's confident, animated stage persona and her ability to make the lyrics pop opened up those new vistas on R&H favorites. If it wasn't apparent before, those who had the privilege of attending this show certainly knew now that R&H were ahead of their time, and more than that, they were champions of 'what's right.' "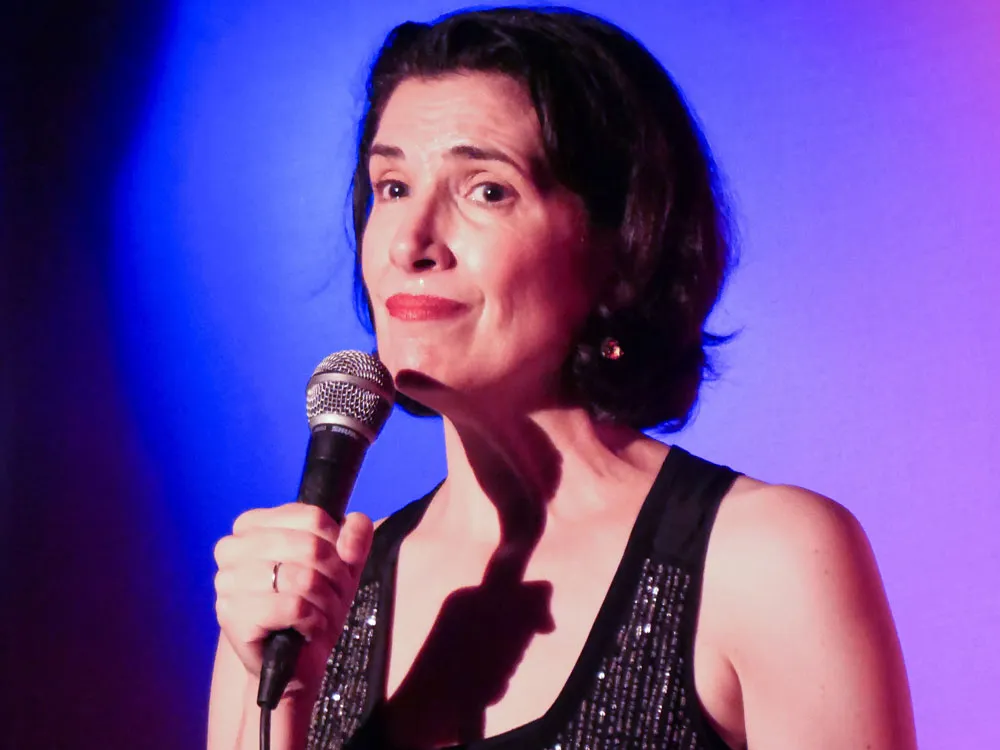 Understanding how Rodgers & Hammerstein were so keyed into the social issues of their day, and how that might be expressed today, Flather felt it was important to interpret Rodgers & Hammerstein as it might relate to the struggles of today's LGBTQ+ community. "There are still parts of this country and this world where you can be killed if you are discovered," Flather says sadly and with frustration. "When I am doing 'People Will Say We're in Love/No Other Love,' [from 'Carousel' and 'Me & Juliet,' respectively], I make it about a man singing to a man or a woman singing to a woman; that is my undercurrent. I don't introduce it that way, I just perform it that way, and people get it."
Flather knew that to address today's issues properly, it meant also singing songs written for male characters, and most notably Jud Fry from "Oklahoma," the troubled farmhand who lives like a social recluse in the smokehouse and is an outcast from the rest of the community. Flather tackled his song "Lonely Room" as a paean to all of us who had to live in isolation during quarantine. "That song is the anchor of my show. Lennie Watts encouraged me to listen to it, and he said, 'I think you can pull this off,' " remarks Flather. "That song is a whole play in two and a half minutes. A whole arc: The problem, the dream, and waking up from the dream and asking, 'Why not me?' I read the play 'Green Grow the Lilacs,' on which 'Oklahoma!' is based.
"The playwright, Lynn Riggs, aside from being gay, was mixed race, with Cherokee blood, and he implied in the play that Jud was, too. The original play leaves you uncomfortable. It's a messy chapter in American history. White people conquering the indigenous people's territory." Flather leverages that insight toward dramatic interpretation that enable the audience to see themselves in Jud's loneliness. To underscore the universality she finds in all of Rodgers & Hammerstein's work, Flather muses, "I sing some of the songs as men, and there's a man in me. We're all gray. We have everything in us."
Meg Flather will perform "Rodgers & Hammerstein 2021+" on Tuesday, November 15, 7 PM at Josephine's Cabaret in Club Café's Napoleon Room, 209 Columbus Avenue, Boston, MA 02116. No cover, but $20 Donation suggested. Reservations recommended. For reservations, visit: https://www.clubcafe.com/club-events/meg-flather/
---
John Amodeo is a free lance writer living in the Boston streetcar suburb of Dorchester with his husband of 23 years. He has covered cabaret for Bay Windows and Theatermania.com, and is the Boston correspondent for Cabaret Scenes Magazine.