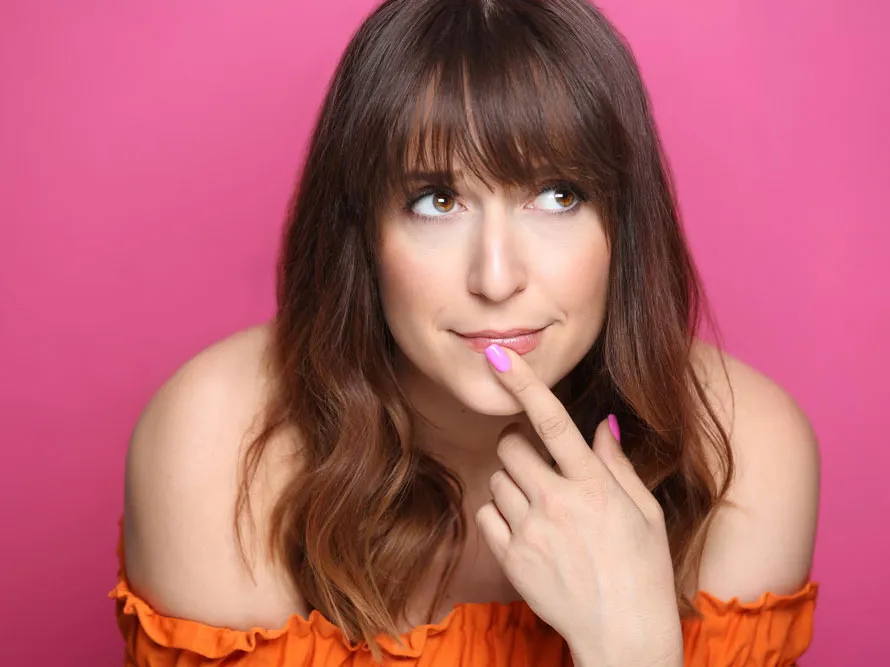 EDGE Interview: Jessica Vosk from Wall Street to 'Wicked' and Beyond
If Broadway leading lady Jessica Vosk isn't a household word yet, she will be soon. After a successful career as a Wall Street accounting executive, Vosk left the security of a high-paying job to pursue her passion for musical theater and joined the masses of actors turning up at open calls, hoping against all hope to get cast in something, anything on Broadway.
After a lot of hard work and hard knocks, Vosk landed a small role in Jason Robert Brown's "Bridges of Madison County," as well as understudying the lead Chiara. That led to another small role in "Finding Neverland," followed by playing Fruma Sarah in the 2015 revival of "Fiddler on the Roof," while also understudying Yente and the female lead Golde. That set her up for the role of a career, stepping into the National Tour of "Wicked" as Elphaba, then, in 2018, joining the Broadway cast as the 20th actress to play Elphaba on Broadway for an 11-month run. In 2019, Broadway.com announced that Vosk was the Audience Fave for Best Elphaba Replacement.
"I started out by putting a cabaret show together at the Laurie Beechman Theater and invited all my accounting colleagues to come to this weird cabaret night. I did this just to see if I could still sing," recalls Vosk. "I look back and think I left that job, which could have been a great career, and left that for something I didn't know I'd go two steps forward. So, when people ask my advice, I tell them to follow their passion."
Vosk says luck can often be a factor in getting where you want to go, but she has the goods, being a triple threat actor-singer-comedian. In 2021, she made her solo concert debut at Carnegie Hall performing her show "My Golden Age," backed by a symphony orchestra. Kristen Chenoweth made a guest appearance duetting with Vosk on "For Good." Stephen Mosher of Broadway World called it "the event of the season," and went on to say, "...there are times when Jessica Vosk sings that you find yourself wondering how a sound so beautiful, so perfect, so pure could exist in real life."
Boston audiences will have a chance to get "Vosk'd," as Mosher puts it, when the Celebrity Series presents Vosk performing an updated version of "My Golden Age" on Sunday, February 5th. For ticket information, follow this link.
EDGE had a chance to catch up with Vosk, who told us about her terrifying career change, her love for musical theater, and her obsession with a certain celebrity.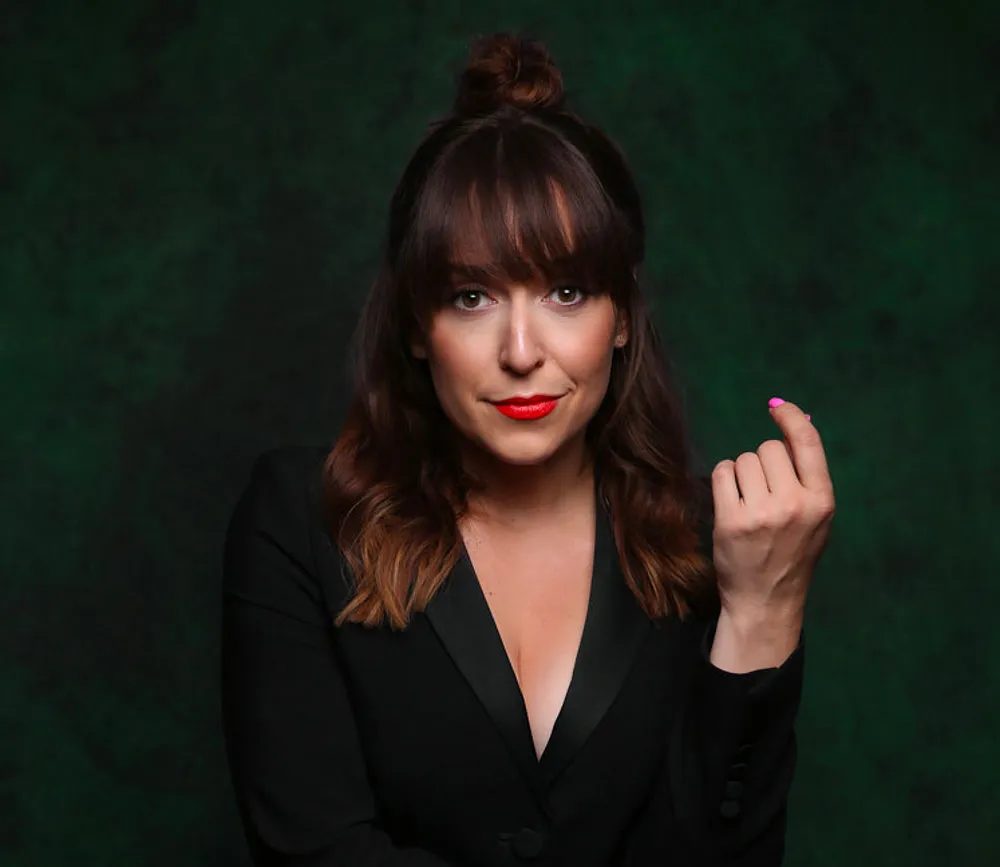 EDGE: At Symphony Hall you will be reprising your show "My Golden Age," from your Carnegie Hall debut. Will you be repeating the same song list, or will this differ, and if so, how?
Jessica Vosk: Those familiar with the song list from Carnegie Hall can expect a decent amount of it mixed with new material. It's been a year, and after doing my Carnegie Hall debut, I have this new perspective of how I want to approach the show. It will be all these new themes of what I grew up with, which I consider my 'golden age.' It might be as much as a comedy show as a concert.
EDGE: When did your crush on Liam Neeson start, and why?
Jessica Vosk: I'm so glad you asked this. Nobody ever asks me about this. I remember seeing him in "Love Actually," and I thought he was the cat's meow. I've dated some older men in the past. Even if not great relationships, I've maintained an attraction to older men. He did send me a note backstage saying he enjoyed me in "Wicked," so I feel like we are dating. Mariska Hartigay ("Law & Order: SVU") came into my dressing room after a "Wicked" performance one time and asked what's up with the Liam Neeson stuff all over the walls. Suddenly, she said, "Let me make a quick phone call." She stepped out for a minute, then came back with him on the phone, and I had to sit down to talk with him. So, in my mind, we've been married a couple of times, and I could probably be labeled a stalker at this point.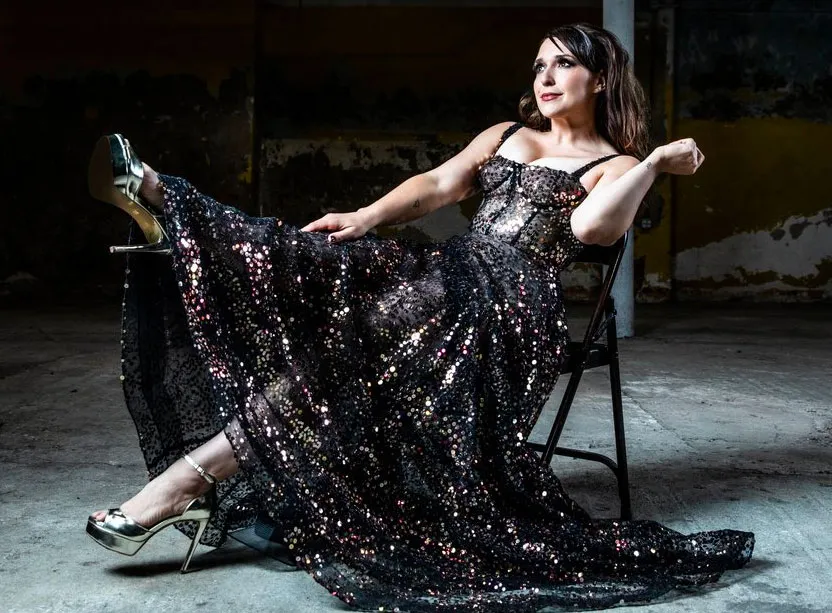 EDGE: You mention your Wall Street job was something you were good at. But you decided to leave to pursue musical theater. Was that a scary moment for you? What assurances did you have then that you would succeed? Did you have a Plan B?
Jessica Vosk: Zero assurances, and no Plan B. Walking a tightrope without a safety net. One of those things that if I didn't go after what I loved the most, I would regret it for the rest of my life. It's easy to talk yourself out of it. When you don't know what's going to happen, you ask, "Why take the risk?" I did have enough faith in me that I could sing, but I had no agent, no equity card, didn't know how to audition. So, I asked, "Do I take a risk or stay safe?" I don't knock either decision. I spoke to my parents, who wanted me to stay secure, in a good-salaried job with a 401K. Needless to say, I didn't listen to them.
EDGE: What role did a note from your late grandmother play in your career decision?
Jessica Vosk: It's on my refrigerator as a reminder of that time. When I was at that job, a couple of things factored into my decision to leave, including panic attacks. I didn't even know what they were. Her note was another factor. It was right around when the real estate bubble burst. Her note said, "Dear Jessica, I wish you a lot of luck in whatever you do. Love, Grandma." She saw me do all the school plays when I was a kid, and she knew what I could do. She died before I went to college and chose accounting as a career, so her impression of me was of my theater days, so I knew that's what she was referring to. I don't even recall getting the note, so when it fell out of a folder, I thought it was a sign. But it was scary.
EDGE: Have you ever had a nightmare audition?
Jessica Vosk: Many! Networking with other actors, I heard you could go to the Actor's Equity building and show up at 6 a.m. and put yourself on a list [to audition], but Equity actors went first, so nine times out of ten I was never seen. These are Equity-required auditions, but there may not even be a role. The auditioners are looking at their computer or their iPhone and not me. It was shattering to give a 16-bar cut and be told, "Thank you. Next."
Kids ask me if it's easy to get roles, and I tell them it's not easy. Auditioning is a job you don't get paid for. It's a reason people stop. It's scary leaving a room not knowing if you'll get a phone call. And you do that ten times a week.
EDGE: Have you had an audition where you knew you nailed it?
Jessica Vosk: I went into the Equity building on a rainy day, hoping they would have an audition for non-equity people, and they were seeing people for a regional production called "Five Course Love," where each of three actors play five characters. Because it was rainy and gross, no one else showed up. A part of my brain said, "I'll never get this." They asked me to sing "If I was A Bell" [from "Guys and Dolls"] as a German dominatrix, as a New Jersey housewife. It was a comic bit, and I'm a comedian, and I nailed it. I was able to get my Equity card from that show. In this business there are so many talented people; I see it every day. But there is also luck. I took a leap of faith. The door was open, and I walked through it.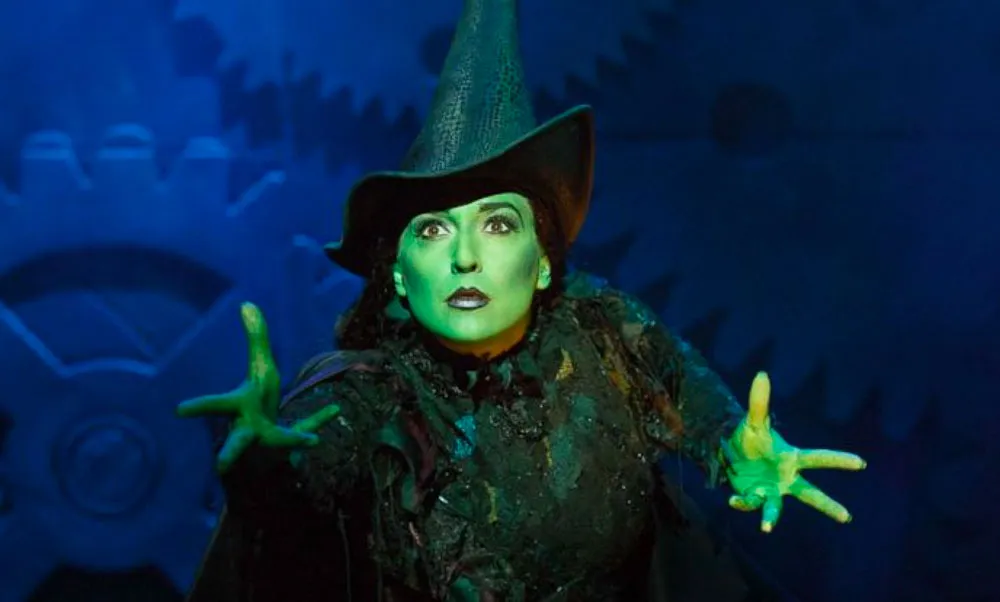 EDGE: What was your "Wicked "audition like?
Jessica Vosk: When I was doing "Fiddler," I was playing the ghost (we called her the "dead Elphaba" – all dressed in white, singing 15 feet in the air). One of my agents asked if I'd like to be seen for "Wicked." It wasn't on my bucket list, but I said "Why not?" It's a badass role and a crazy thing to be seen for, and it's for the tour, and they promote from within.
I went in 3-4 times, because there are so many hoops to jump through. I can't tell you how many times I had to sing "Defying Gravity." I got a call from the casting director who said, can you come see me and my new puppy at the stage door, so I went during intermission of "Fiddler" with my wig cap on and stage makeup, and he stood at the stage door and said, "This is my new puppy... and you're booked for 'Wicked.' "
I hadn't seen the show in thirteen years, so I had no idea what I was in for. I gave my notice to "Fiddler," which was formative for me as an actor, and then hopped on a plane and started the next day. That's how it's always been for me. I went from "Bridges" to "Neverland" to "Fiddler" to "Wicked," with no time off, and I started at 30, not 22 like so many others. I played "Wicked" on the road for 13 months, which showed me how difficult it is to tour, then how hard it is to lead a show.
I called up Kelli O'Hara, Rebecca Luker, and Danny Burstein for advice, and they were incredibly supportive, and gave me great advice. After the tour, I took a mini-break then went into the 15th anniversary show of "Wicked" on Broadway, which lasted a year, finishing 2019, a couple of months before the pandemic. The next month, I went into a show called "Becoming Nancy." Did a production at the Alliance Theater in Atlanta at end of 2019. But the day of the Broadway workshop was the day Broadway shut down. We had no idea what COVID or social distancing was, and we thought we would be back in two weeks, but three years later, it's just starting to surface again. It's taking a long time to get back.
EDGE: I just got your 2018 CD "Wild and Free" for Christmas, and my husband and I listened to it driving back from New York on New Year's Weekend, and I was so surprised to hear you singing Billy Joel's "The Entertainer." It almost seems like he wrote this song for you. Is that how you feel when you sing it?
Jessica Vosk: I grew up with [the music of] Billy Joel, Linda Ronstadt, and Crosby, Stills, and Nash, and I had parents who had all their records. I understood their music in a big way. A song like "The Entertainer" took on a whole different meaning after I left a finance job and entered this crazy world that's not all glam and glitz. Not that I'm not thrilled with it. I'm lucky to be able to do it. But I still have to make expenses and keep things in line.
Jessica Vosk will perform "My Golden Age," on Sunday, February 05, 5 p.m. at Boston Symphony Hall, 301 Massachusetts Avenue, Boston, MA 02115. Tickets $29-$90. To purchase tickets, follow this link.
For more on Jessica Vosk, vist her website.
Watch Jessica Vosk sing "Defying Gravity" and "For Good" with Kristen Chenoweth.
---
John Amodeo is a free lance writer living in the Boston streetcar suburb of Dorchester with his husband of 23 years. He has covered cabaret for Bay Windows and Theatermania.com, and is the Boston correspondent for Cabaret Scenes Magazine.