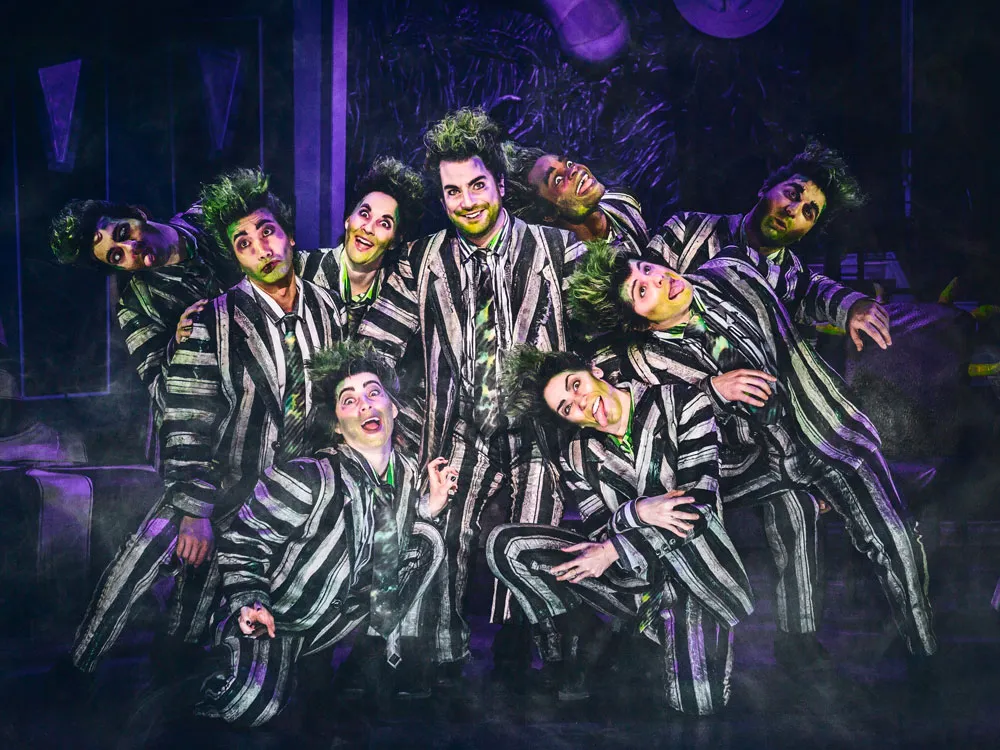 Review: This 'Beetlejuice' Is a Spectacle to Be Seen
When a troubled teen, mourning the death of her mother, moves with her father to a Connecticut house where a recently deceased couple, Adam (Matthew Michael Janisse) and Barbara (Britney Coleman) resided, it's a haunting ready to happen. You see how Adam and Barbara wanted to start a family someday, but instead threw themselves into useless projects until it was too late. When some faulty wiring dispatches them they are suddenly two ghosts navigating the world between the living and the dead. And the first entity they meet on the other side is the otherworldly prankster, Beetlejuice.
"Beetlejuice" is based on the 1988 film by Tim Burton about a mischievous bio-exorcist of the same name (Justin Collette), a cheeky demon who focuses his attention on Adam and Barbara. It turns out Beetlejuice is invisible and cannot be seen by the living unless one of them says his name three times aloud. Figuring he can influence the mourning teen Lydia (Isabella Esler) (who can see all of the ghosts and demons), he sets forth a plan to wreak havoc for the two families, dead or not. And if anyone happens to recite his name thrice, he'll manifest into the world for more hijinx. Lydia's father Charles (Jesse Sharp) and his "life coach" Delia (Kate Marilley) are clueless about all of this until a very funny possession happens during a dinner party where hilarity ensues.
The musical, with music and lyrics by Australian comedian Eddie Perfect and book by Scott Brown and Anthony King, had a brief Broadway opening in April 2019 and closed in March 2020 due to the pandemic. Re-opening nearly two years later, it closed in January of this year and currently is on a national tour that brought it to Providence to an enthusiastic response. Loud, bright, brash and with some nice nods to the film, it has a really fun premise apparent from the star with bright, moving lights in purple and green sweeping the theater and a flashing, colorful neon sign heralding the arrival of the titular character.
Fans of the film may be pleased to hear some of the dialogue lifted from that script, but what seems missing is the iconic Danny Elfman theme, replaced by some fun numbers here and power ballads there. They mostly work, although the second act seems a bit overlong as the main protagonists find themselves in Hell on a mostly pointless exercise that's saved by the appearance of Juno (Kris Roberts), the case worker who helps the recently dead find their way to the netherworld. Whether you've seen the film or not, you'll still be entertained by its racy fun and very topical jokes.
This cast is clearly enjoying these exercises: Marilley's Delia is channeling her best Catherine O'Hara by way of her character Moira Rose (of "Schitt's Creek" fame). Sharp is fun as the mostly befuddled dad and Coleman is having a blast as Barbara with movements that are a fun nod to the film's most comedic aspects. Understudy Janisse comfortably inhabits Adam, and Esler, doing her best gothic teen, has a fantastic voice and gives a welcome performance. But the best moments certainly come from Collette, making this title character over-the-top fun. While some language is perhaps not suitable for children, adults will snicker or even laugh out loud, repeatedly. This musical version of "Beetlejuice" spectacle to be seen, for sure.
"Beetlejuice" is running through April 30th at the Providence Performing Arts Center (PPAC) 220 Weybosset Street, Providence RI 02903. For information or tickets call 401-421-2787 or visit www.ppacri.org.
---