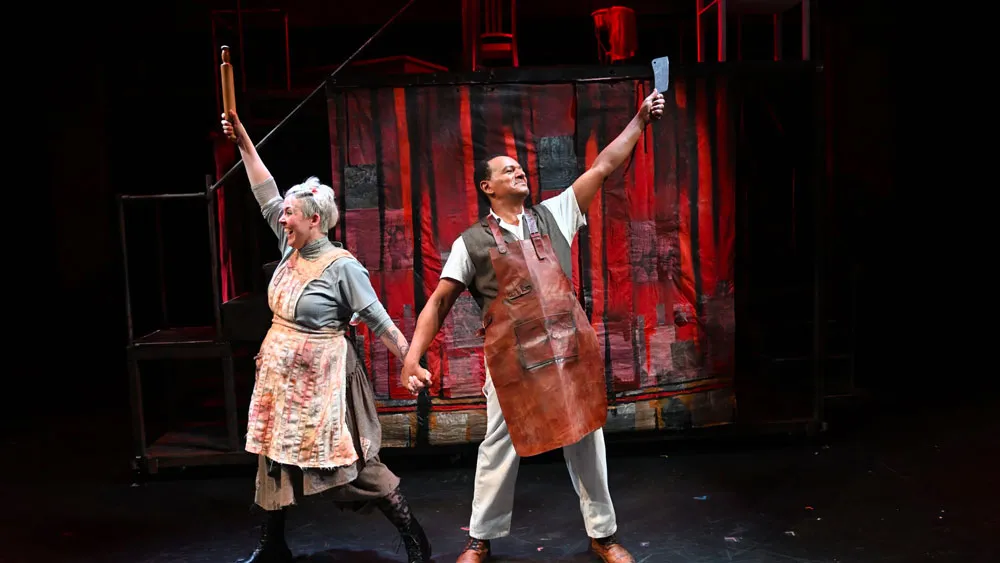 Review: Attend Trinity's Tale of 'Sweeney Todd'
In "Sweeney Todd: The Demon Barber of Fleet Street," a murderous barber – an unfortunate man whose life ruined by circumstance – and a baker of meat pies (terrible) become business partners of sorts. The barber pursues vengeance on those who had done him wrong years before, and the baker is willing to help, with hopes of moving her floundering business forward into prosperity.
Such is the premise of this monumental Stephen Sondheim musical. The Trinity Repertory Company's 2022/23 season comes to a close with a wickedly funny production of the 1978 Tony-winning musical, which was later filmed and is currently a hit on Broadway with a new revival starring Josh Grobin.
Directed by Trinity's Artistic Director Curt Columbus, this ambitious production carries with it some extraordinary ties to the original Broadway production: TRC's resident scenic designer, Eugene Lee, along with longtime collaborator Patrick Lynch, designed the show's kinetic set. Lee sadly passed away this past February, but not before leaving an incredible legacy of work, including "Candide," "Wicked," and longtime production design work on "Saturday Night Live," not to mention having been the original Broadway set designer for "Sweeney Todd," for which he won one of his three Tony Awards. (The others were for "Candide" and "Wicked.")
A strong mixture of company members, MFA students, and guest artists highlight this inspired musical choice: The title character is played by returning artist Erick Pinnick, who graced Trinity stages for both "Annie" and "Oliver!," and his return is quite welcome, breathing fresh life into Todd with a strong vocal presence and delightful humor. Company member Rachel Warren throws herself in to the role of Mrs. Lovett rolling pin first, and is incredibly funny, bringing a tangible onstage chemistry to "A Little Priest," Sondheim's wicked catalog song of their potential victims listed by professions.
Stephen Thorne delights as the loathsome Judge Turpin, Sophie Zmorrod is clearly enjoying her time in the roles of Beadle Bamford/Ensemble, and Kai Thomani Tshikosi has a delightfully funny turn as Adolfo Pirelli, with "The Contest" definitely a highlight. Company member Taavon Gamble is excellent as the earnest Anthony Hope, and Myka Cue's (Beggar Woman/Ensemble) makes a strong company debut. Rounding out the cast is Rhode Island native Kevin Patrick Martin (Jonas Fogg/Ensemble), last seen on tour with "Jersey Boys," and Rebecca-Anne Whitakker as Johanna/Ensemble and Alexander Crispo-Rosario as Tobias Ragg/Ensemble.
Musical Director Andrew Smithson helms the orchestra, which is hidden from view which but bring the grandiose Sondheim score to life. Sharon Jenkins, who previously choreographed Trinity's production of "Oklahoma," brings her considerable experience to this stage. But what better choice to end this season than "Sweeney Todd," originally planned to close the 2019/20 season, which, of course, was when theaters went dark – for a period of twenty-one months, in the case of Trinity Repertory Company.
"Sweeney Todd" is running through June 25th at the Trinity Repertory Company, 201 Washington Street, Providence, RI 02909. For information or tickets call 401-351-4242 or visit www.trinityrep.com.
---