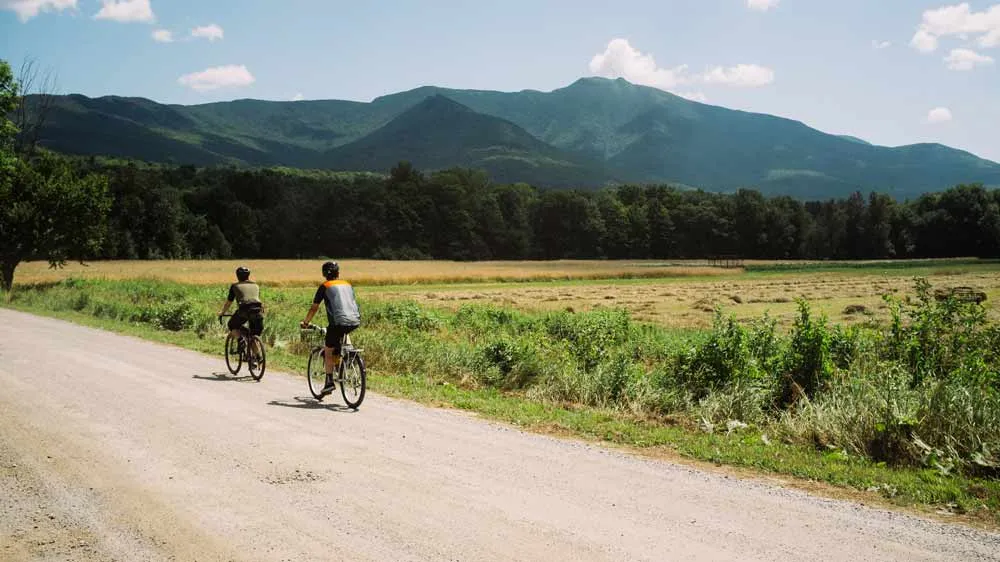 365 Days of Pride in Vermont
With the highest rate of same-sex couples in the nation, Vermont, home to majestic green mountains, scenic hiking trails and tasty food offerings, has quietly built a boisterous LGBTQ+ community over the years. The collection of diverse and growing queer communities makes the "Freedom and Unity" state an exciting hub for Pride events you and your loved ones can enjoy. But even after Pride Month passes, Vermonters serve up thrilling year-round activities that will keep you coming back for more.
Glam it up with a Queer Dance Party and Cabaret in Brattleboro, a great time for queers in the southeast corner of the state. The dance party happens once a month at The Stone Church – a transformed venue for you and your friends to dress up, let loose and get down.
The good times keep going with a visit to Retreat Farm. Don't miss the Food Truck Roundup, featuring live music, local food truck goodies, and fun outdoor games every Thursday. This beloved Vermont activity keeps the charm going all summer long. When you're ready to get moving, hit the trails, a sprawling network of interconnected pathways where you'll discover meadows of flowers, animals in a pasture and natural rivers and streams. And the best part? The trails are free and open to the public.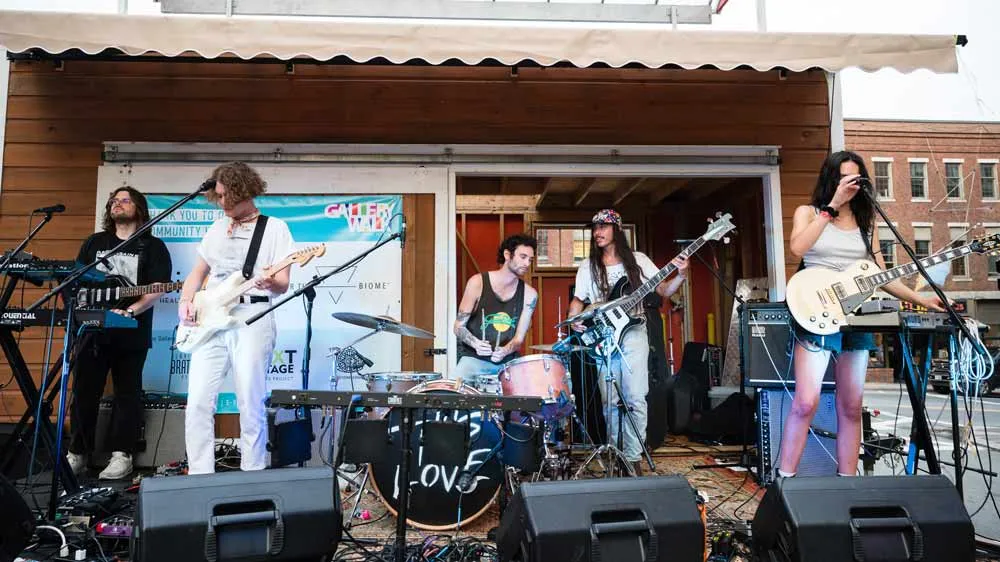 To get your artistic juices flowing, pop into the Brattleboro Museum and Art Center, a prominent fixture of Vermont cultural richness and a celebration of human expression and ideas. Current exhibits include a Pride collection that showcases the legacy of the first Pride event in Burlington in 1983, a menagerie of glass figurines for the Glasstastic exhibition, and Alec Egan's sumptuous floral paintings that capture the bright colors of summer.
Then head over to the Whetstone Beer Co. or River Garden Marketplace to refuel on craft beers and yummy bites. Craft is the optimal word for this social hangout for all things craft – kitchen, marketplace, and beverage – in the heart of downtown Brattleboro. Also on Main Street and near the marketplace is the Gallery Walk, happening every first Friday of the month from May to December. Stroll through dozens of art displays from local craftspeople and experience the artistry that makes Brattleboro a cultural hotspot in Vermont.
Head to the Northeast Kingdom region of the state for the NEK Pride Fest and let your rainbow flag fly. This family-friendly parade and Pride festival will have you dancing in the streets. Kick your summer days up a notch in Northeast Kingdom with boat tours, cultural landmarks, bike trails and delicious eats. Hop on board the Northern Star, a double decker cruise boat with breathtaking views of Lake Memphremagog. This two-hour trip includes a beer and wine bar on board as you and your friends and family are treated to stories from the history of the lake and local surroundings. You can even book a dinner cruise (on Friday and Saturday nights), a Sunday brunch cruise, or international Canadian cruise.
While in the NEK region of the state, take a trip to the Haskell Free Library and Opera House, a cultural center on the U.S.-Canadian border that connects the two nations through its vast library and visual and performing arts. After perusing the library collection, see a show at the opera house and immerse yourself in theater, dance, and music. The historic space will enliven you with its rich ambiance and Victorian architecture. Speaking of U.S.-Canadian border, you can easily access Canada for more adventures in a nearby town with our neighbors to the north.
There's no better way to take in Vermont's lush foliage and scenic views than on the Lamoille Valley Rail Trail, the longest trail in New England. This newly completed 93-mile corridor connects 18 towns and is suitable for many kinds of recreational transportation any season of the year. Visit the Rail Trails website for parking and other useful tidbits of information to plan your route and connect with other intersecting rail trails. If you're looking for a community ride, check out one of the many Pride rides put on by local queer community members who love to bring LGBTQ+ friends together. Visit the Facebook page to find a ride for you and get connected. After fun trail rides, cruise over to the Newport Natural Market and Cafe for all-natural grab-and-go bites, or peruse the store for the freshest local fruits, vegetables, and tasty treats.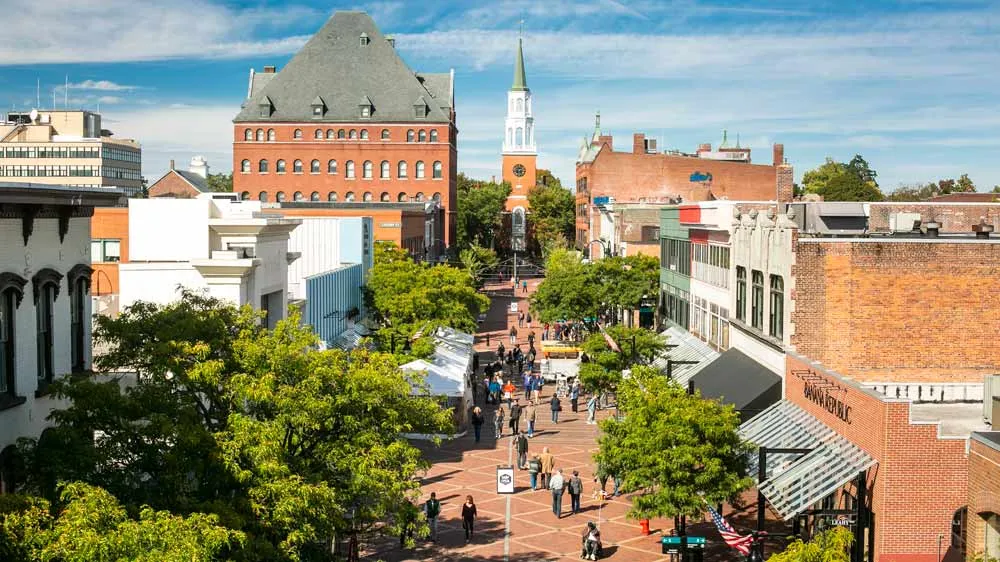 In Burlington, link up with your LGBTQ+ friends for the Trans Love Tuesday Walk in the New North End, a weekly morning walk to affirm trans lives. Burlington hosts an array of exciting queer events – check out the Pride Center of Vermont for year-round happenings.
A visit to Vermont isn't complete without a beer from one of the state's world-class breweries. Order a cold one from Queen City Brewery, a beermaker in an old warehouse in Burlington's South End, featuring classic beer styles on tap. Or pop into Citizen Cider for the best in New England orchard-to-can cider or fresh flowing taps. Pair your beer or cider with fresh local foods at the Burlington Farmers Market, showcasing the best of Vermont farms. Local artisans also display their wares and crafts in the marketplace.
Burlington is alive with a thriving arts scene and you don't want to miss a trip to the Soda Plant in the vibrant South End Arts District. What started out as an incubator space has evolved into a display of local art and innovative concepts – complete with food shops and brewery taps. Stroll through dozens of local businesses and stalls, shops, and galleries. When you're out on the town at night, catch a show at the Vermont Comedy Club, a performance space for standup, improv, and sketch comedy. Saddle up at one of the cabaret-style tables for big laughs and enjoy a delicious meal and full bar service.
Vermont has it all – year round Pride events that celebrate the queer community and exhilarating activities and tasty food scenes and arts at every corner of the state. Whether you're a frequent visitor or a first-timer to the state, you'll soak up the natural beauty and enjoy your time in Vermont. Start planning your trip at VermontVacation.com!
---