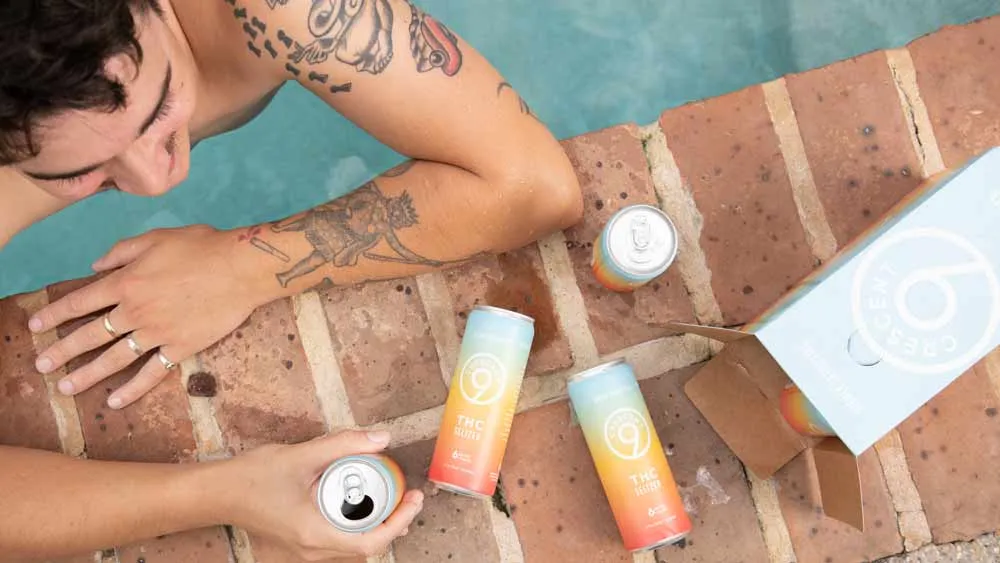 Crescent Canna Review: Highly Satisfying THC Seltzer, Edibles, and More
I often think fondly of the times in my youth when my friends and I would gather in front of the television and mellow out to a movie with "special" brownies. However, as I've gotten older, I've gotten more sensitive about what goes into my system, and in today's world everything seems a bit harsher than things were back then.
Recently, though, I decided to give edibles another try. Approached with the opportunity to review a company named Crescent Canna, I was given a chance to revisit cannabis. They sell an assortment of CBD and THC products online, in stores – and even sell their THC seltzer in bars. Rest assured, their products are legal because they are made from hemp, which I had stupidly thought was only good for making rope. But no. It turns out that THC and CBD made from hemp are completely legal to consume in the United States.
The only difference between hemp and marijuana is that hemp has less than 0.3% Delta-9 THC, while marijuana has up to 30% Delta-9. All of Crescent Canna's goods are made from hemp. Therefore, thanks to the 2018 Farm Bill, their THC and CBD products are federally legal for persons 21 or older.
With all the legalities out of the way, I decided to open the box they sent me and dive in. The company supplied me with an assortment of things to try, from pain-relieving roll-ons to CBD oil to THC gummies. I was a bit nervous and overwhelmed, but having traversed their very informative site, I was ready to chill out and test these products throughout the coming weeks. I was most interested in their THC seltzer, which comes in pretty orange and blue cans.
Before I begin, I must tell you that there might have been no better time to review these products because of the things going on in my life. My younger brother has been dealing with chronic kidney failure, and I had to drive to his house in New Mexico to make sure he was doing alright. It was a stressful time. He is unable to clean his large backyard, so I decided to take on the task. My back did most of the work, so when I was done I looked like Quasimodo.
I had packed Crescent Canna's CBD Freeze Roller, a product for helping with aches and pains. Immediately after applying it to my skin, I felt a cooling sensation that helped relieve the effects of the 109-degree heat I had been working in. The smell is pleasant, that of tea tree oil and menthol. I was surprised that the cooling effect lasted so long, and in about 10 minutes the aches in my back had subsided and I was ready to head outside and finish the project.
Having finished for the day, I headed back to the hotel. After my shower, I decided to hit the hay early and take Crescent CBD Sleep Gummies, which contain a blend of cannabinoids and natural sleep supplements. They come in a small jar of different fruit flavors. I ate a green one which, no exaggeration, tasted like a fresh green apple wedge. Drowsiness hit about half an hour later, and I was out like a light. It was a smooth transition from feeling the residual stress of the day to mellowing out with my head on the pillow. The next day, my sleep app even showed that I'd had a healthy night's sleep. That hadn't happened since I got the app.
I was eager to try Crescent Canna's THC Seltzer. About three days after coming home, I found the right opportunity and cracked one open. It smelled great. There are aromatic hints of mango, along with some other tropical undertones. It is not overly sweet, and there is a slight hemp aftertaste, but it is a very smooth experience overall. It reminded me of a light energy drink.
The effects kicked in about half an hour after drinking it. Anticipating psychoactive effects because the seltzer contains THC, I turned on a bad movie, "Showgirls" to be exact, and am glad I did. Just as I was about to turn it off the seltzer kicked in, and now I can confidently tell you that "Showgirls" might be the best movie ever made! Experiencing bad movies while sipping this THC seltzer is a game-changer. I wasn't "baked," but certainly at the threshold, which was perfect.
The last product that I tried from Crescent Canna was their 9,000 mg CBD Drops. This is potent stuff, and I used only half a dropper-full. I got the peppermint-flavored drops, which had a hint of mint that's delightful without being overpowering. Crescent Canna also boasts the highest concentration of CBD possible in a 30 mL bottle. The mellowing yet invigorating effect is incredible. It leaves you feeling softened and tranquil. I wouldn't recommend doing a whole dropper if you have things to do, because it really does mellow you out, like getting a massage in a bottle.
These are only a few of the items I tried from Crescent Canna, but their online store is stocked with all kinds of hemp-derived products. They ship CBD products to every state and territory of the United States. Unfortunately, they do not ship internationally right now.
Overall, my experience with Crescent Canna's products was absolutely life changing. I was apprehensive, but curious, at first. Whether it was for necessity or leisure, I truly found a new appreciation for legal THC and CBD. Crescent Canna has made another loyal customer.
Order Crescent Canna CBD & THC products online at crescentcanna.com. Get 30% OFF your order with code: EDGE30. Exclusions apply. Must be 21 or older.
---