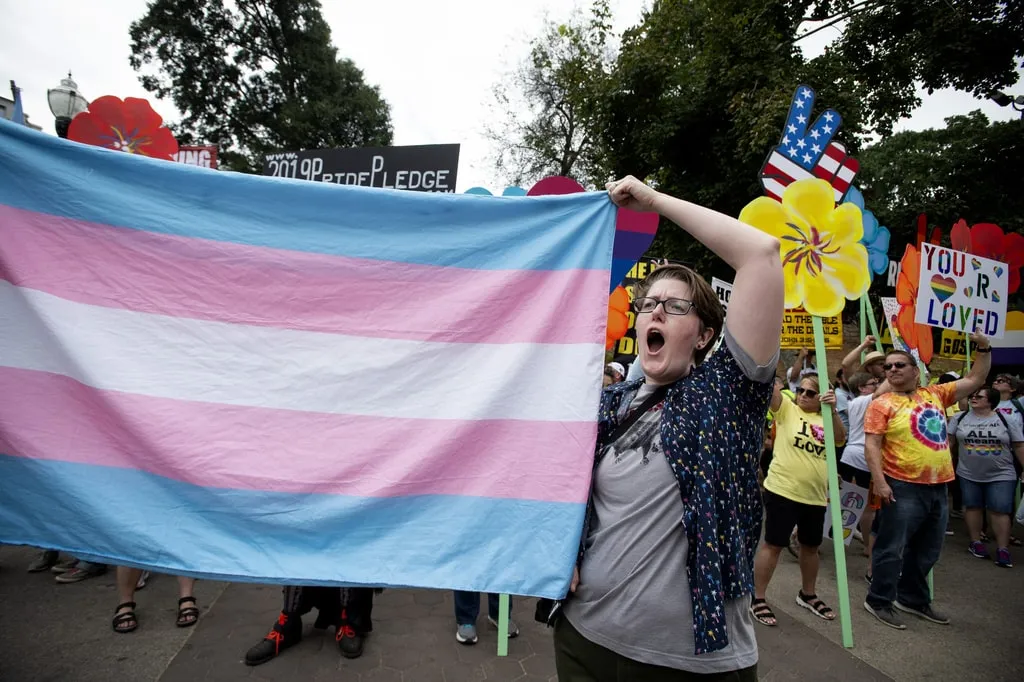 See which States are Poised to Rule Next on Transgender Health Care Restrictions
Andrew DeMillo
READ TIME: 3 MIN.
Courts nationwide are delivering a mixed verdict on the future of state laws restricting gender-affirming medical care for transgender youth, as legal battles ramp up over the historic wave of bans enacted this year.
Judges ruled against bans in Georgia and Texas this week, while Alabama and Missouri can move forward with their restrictions. A ruling on whether to block a Florida law that goes beyond young people and restricts the care for trans adults could also come in the next week.
Here's a look at recent developments in the cases and where laws on transgender health care stand:
THE LATEST RULINGS
A Texas judge on Friday blocked the state from enforcing its ban, siding with families who said the law would have devastating consequences for transgender youth. But the state moved quickly to appeal the ruling, a move that puts the decision on hold for now and allows the law to take effect Sept. 1.
If the law moves forward, it'll make Texas the most populous state to restrict gender-affirming care for youth.
The ruling came the same day a state judge in Missouri ruled that state's ban can take effect on Monday as scheduled. Missouri's law also makes it easier for patients to sue providers of such care.
The rulings follow two other courts that split this week on the future of the bans. The 11th U.S. Circuit Court of Appeals ruled on Monday that Alabama can enforce its ban on gender-affirming care for transgender youth, vacating a lower court ruling against the 2022 law. The earlier ruling is still keeping Alabama's ban on hold until the appeals decision formally takes effect, which could take several days.
This was the second federal appeals panel to allow a state ban to move forward, after a three-judge panel said last month that Tennessee and Kentucky can enforce their bans – for now.
In Georgia, a federal judge on Sunday blocked a ban on doctors starting hormone therapy for transgender people under the age of 18. Since Georgia is part of the circuit that allowed Alabama's ban to be enforced, the state has asked the judge to reinstate the prohibition.
WHERE BANS STAND NATIONALLY
At least 22 states have enacted laws banning or restricting gender-affirming care for minors, and most of the bans are being challenged in court.
The most recent state to enact a ban was North Carolina, where Republican lawmakers overrode Democratic Gov. Roy Cooper's veto of a measure banning medical professionals from providing hormone therapy, puberty-blocking drugs and surgical gender-transition procedures to anyone under 18, with limited exceptions.
North Carolina's law took effect immediately. But minors who had begun treatment before Aug. 1 may continue receiving that care if their doctors deem it medically necessary and their parents consent. Opponents of the law have vowed to file a lawsuit challenging it.
A federal judge in June struck down Arkansas ' first-in-the-nation ban, and the state has appealed that decision. The judge in that case ruled the prohibition violated the constitutional rights of transgender youth and families, as well as medical providers. He also rejected proponents' claims that the treatments were experimental.
A federal judge has blocked Indiana's ban, and Oklahoma has agreed to not enforce its ban while opponents seek a temporary court order blocking it. A Nebraska judge rejected an effort to block that state's ban before it takes effect Oct. 1. The same federal appeals court panel that allowed Tennessee's ban to take effect also ruled that Kentucky's ban could be enforced.
People opposed to such treatments for children argue they are too young to make such decisions about their futures.
Every major medical organization, including the American Medical Association, has opposed the bans on gender-affirming care for minors and supported the medical care for youth when administered appropriately.
The American Academy of Pediatrics earlier this month reaffirmed its support for the treatments, and voted to conduct an external review of research regarding the care.
WHAT CASES ARE NEXT?
The cases go beyond restrictions on transgender youth. A federal judge in Florida is expected to hold a hearing Tuesday on whether to block a law that has made it difficult, and impossible in some cases, for many transgender adults in that state to get gender-affirming care.
The same judge has already narrowly blocked the portion of the law banning care for transgender youth, prohibiting the state from banning the care for the three children who are challenging it. Opponents are also seeking to expand that ruling to other youth who may be affected by the ban.
The appeals panel that allowed Tennessee's ban to take effect is also set to hear arguments on Sept. 1 over the earlier decision that had temporarily blocked the law.
In Montana, a state judge is expected to hear arguments in a Sept. 18 hearing on whether to block that state's ban before it takes effect Oct. 1.
---