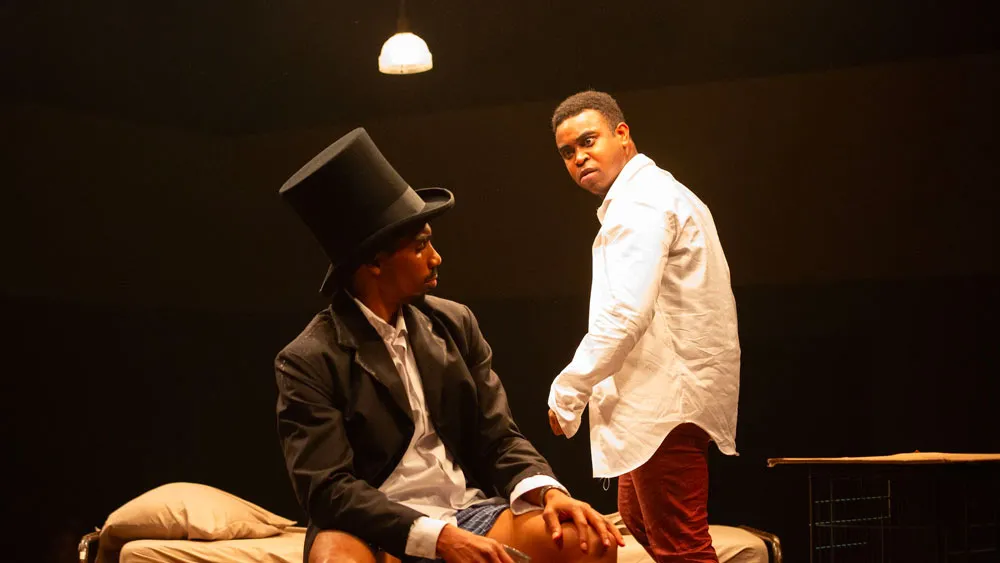 Review: 'Top Dog/Underdog' Offers a Vibrant Night at the GAMM
What is the American dream? To be wealthy? Successful in one's work? Or is it just to be able to boast that life makes one happy and be seen as a success. But if you grew up in poverty, does that mean the "dream" is unattainable? Two African-American brothers, who are exceedingly poor, navigate their lives in search of their own success and happiness.
For two teens in Suzan Lori-Parks' "Topdog/Underdog," the start isn't just rocky, it's grounded in loss and unhappiness. Both are abandoned as teens by their parents, and both given $500 by their mom and dad before leaving them to the streets. The pair – Lincoln (Gamm newcomer Anthony T. Goss) and Booth (Marc Pierre, who appeared in last season's "Octoroon" and "Midsummer Night's Dream") – set forth to capture their dreams.
"Topdog/Underdog, written" by playwright Suzan Lori-Parks, won both a Tony (though not when it first opened in 2002, but when revived last season); and a Pulitzer Prize, which made Parks the first African-American woman to win the award in that category. It is an incredibly vibrant and stark examination of poverty, brotherhood and petty crime. Opening off Broadway in 2002 and starring actors Jeffrey Wright and Don Cheadle, it enjoyed a long run.
Lincoln is a former card shark specializing in Three Card Monte, giving this up after a colleague is shot. Fearing he is next, Lincoln takes a job as an Abraham Lincoln impersonator at a local arcade. Thrown out of his house by his wife Cookie, his unemployed brother Booth takes him "temporarily" into his small flat. Booth supports himself through shoplifting and aspires to be as good as Linc with the cards.
All of Lincoln's earnings are distributed by Booth, who is currently trying to impress a girl named Grace whom we never see but evidently doesn't even want him. Complicating matters is the small sums brought home are threatened by the impending replacement of Linc at work by a wax dummy. Booth continues to steal in his hopeless attempts to dazzle Grace as well as keep both men with food, booze and nice clothing. There's real intensity and feeling in Parks' characterizations as they try to one up the other; Booth boasts of his prowess in the bedroom and shoplifting abilities, Lincoln calls him "Two Left Handed" due to his poor play at mastering cards. But the long periods of Linc on his own highlight his tangible and lasting depression, cleverly staged by lighting, sound effects and Goss' deft portrayal.
Cliff Odle (Gamm's "King Elizabeth," "It's a Wonderful Life: A Live Radio Play") makes his directorial debut with a splash here; he's cast two actors with immense talent to flesh out Parks' well drawn characters. Pierre continues to showcase his versatility. His Booth straddles the line between unlikability and a light comic edge. Goss brings such a quiet intensity to Lincoln yet it's impossible to not feel sorry for him. Both are well matched and embrace Park's frank language as if they're speaking as brothers to each other.
"Topdog/Underdog" is a welcome and intense night of theater and launches the 2023-24 season with a winner.
"Topdog/Underdog" is running through October 1st at The Gamm Theatre, 1245 Jefferson Boulevard, Warwick, RI 02886. For information or tickets call 401-723-4266 or visit www.gammtheatre.org.
---