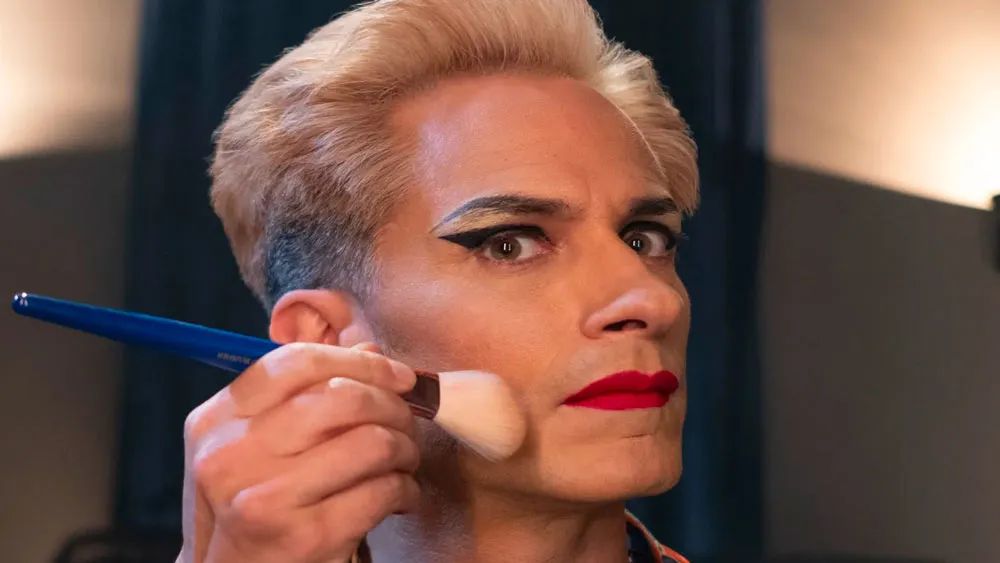 What's Streaming Now: Doja Cat, 'Sex Education,' 'Spy Kids,' 'The Super Models' and 'Superpower'
The return of Netflix's "Sex Education" with Gillian Anderson, Sean Penn's documentary about Ukrainian leader Volodymyr Zelenskyy and a docuseries that charts the rise of the first supermodels are some of the new television, movies, music and games headed to a device near you.
Among the offerings worth your time as selected by The Associated Press' entertainment journalists are an album from Doja Cat and a reboot of Robert Rodriguez's "Spy Kids" franchise with a film starring Gina Rodriguez and Zachary Levi.
NEW MOVIES TO STREAM
– In Mexican lucha libra wrestling, exóticos traditionally are male fighters dressed in drag who offer a campy contrast to the machismo of the main-event matches. "Cassandro," premiered Friday on Amazon Prime Video, stars Gael Garcia Bernal as a pioneering exótico named Saúl Armendáriz who rose to become one of the biggest stars in Mexican wrestling. In my review of the film, directed by Roger Ross Williams, I wrote that Armendáriz's transformation of the exótico into something more than was prescribed by lucha tradition makes for a stirring metaphor for gay empowerment.
– Robert Rodriguez's "Spy Kids" movies are pluckily still going, more than two decades after the director – with his kids in tow – first launched the admirably goofy, charmingly childlike espionage fantasy. The family film franchise, begun with the 2001 original, had tapered off by the time the lackluster fourth installment, "Spy Kids: All the Time in the World," was released in 2011. But Rodriguez and clan return for a reboot in Netflix's "Spy Kids: Armageddon," debuted Friday. The film, written by Rodriguez and his 26-year-old son, Racer, stars Gina Rodriguez and Zachary Levi.
– AP Film Writer Jake Coyle
NEW MUSIC TO STREAM
– Long gone are the days of the viral retro-hit "Say So" – but who could expect the pop experimentalist Doja Cat to stay in one lane? (Anyone who remembers the viral "Moo! (B---- I'm a Cow)" video that made her an internet star would know better.) On "Scarlet," Doja Cat bids adieu to her former self and in the hardest rap verses of her career, demands listeners' heed. Like on the lead single, "Attention," a criticism of normalizing parasocial relationships, or "Demons," where she spits, "Are you off a key/I would never let you in my VIP/ We are enemies, we are foes/Who are you? And what are those?" while embodying her inner – and outer – incubus.
– And now, to look away from pop's present and into its future! Chappell Roan, the Missouri-raised, LA-based dark pop balladeer first made headlines for her queer theatrical pop hit "Pink Pony Club," and later, the Gen-Z situationship anthem, "Casual," which she worked on with Olivia Rodrigo's chief collaborator and producer, Dan Nigro. "The Rise and Fall of a Midwest Princess" is Roan's solo debut, an enterprising collection of explicit ballads and bangers. Next year, Roan will open for Rodrigo on the "GUTS" singer's first-ever arena tour. Big things are on the horizon.
– AP Music Writer Maria Sherman
NEW SERIES TO STREAM
– Oscar-winning actor Sean Penn has co-directed a documentary about Volodymyr Zelenskyy and the resilience of the Ukrainian people. Penn says he began the project – called "Superpower" – in 2021, with a lighthearted approach to the life of Zelenskyy, who was a comedian and actor before he entered politics. The tone and focus of the film shifted when Russia invaded Ukraine in February 2022. "Superpower," which features interviews with Zelenskyy and families affected by the war, is streaming now on Paramount+.
– Before Gigi Hadid, Kendall Jenner and Winnie Harlow ever stepped onto a catwalk, Naomi Campbell, Cindy Crawford, Linda Evangelista and Christy Turlington defined the word glamour and became household names. A new four-part docu-series called "The Super Models" traces their rise to success. It strutted onto Apple TV+ on Wednesday.
– The critically-acclaimed "Sex Education," one of Netflix's most popular shows, returned for its fourth and final season Thursday. The series stars Asa Butterfield as Otis, an awkward, precocious teen whose mother (played by Gillian Anderson) is a sex therapist. (You can watch how that unique situation affected Otis' high school experience and social standing in earlier episodes.) In season four, Otis heads off to college.
– Alicia Rancilio
NEW VIDEO GAMES TO PLAY
– The mighty Shaolin warrior Liu Kang has created his own universe, and he's decided the best way to keep it peaceful is to invite his old friends over to beat each other up. That's the typically loopy setup for Warner Bros. Games' Mortal Kombat 1 (the follow-up to Mortal Kombat 11 – go figure). Granted, most fans of the franchise aren't here for plausible plotting. They're looking to get reacquainted with their favorite fighters (Sub-Zero! Kitana! Johnny Cage!) and try out some new ones (Homelander from "The Boys"! Peacemaker from "Suicide Squad"! Megan Fox as a vampire!). Or they're psyched to find new ways to rip out their opponent's innards, which MK developer NetherRealm is always happy to deliver. The limbs started flying Tuesday on PlayStation 5, Xbox X/S, Nintendo Switch and PC.
– The "P" in Neowiz's Lies of P is Pinocchio – but he's come a long way from the cute little guy you know from the Disney movie. He's still a puppet, but he's all grown up and kind of looks like Timothée Chalamet. He can also unscrew his left arm and replace it with a shield, a grappling hook or a flamethrower. That'll come in handy as he explores a decadent Gilded Age city that's filled with hostile, corrupted automatons as well as more supernatural monsters. It's an eye-grabbing mix of steampunk, eldritch horror and the sort of demanding combat popularized by games like Dark Souls and Elden Ring. Don't expect Jiminy Cricket to start singing when the nightmare began Tuesday on PlayStation 5/4, Xbox X/S/One and PC.
– Lou Kesten
---