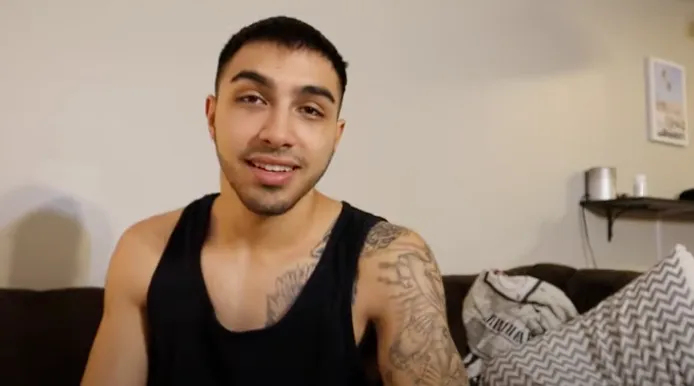 Getting to Know Rising Out Influencer Luis Lopez
If you're looking for an LGBTQ+ influencer who isn't afraid to be completely authentic and oftentimes even a little scattered, look no further than Luis Lopez. This handsome TikTok star and YouTuber is unlike other online social media presences because his content feels randomized and down-to-earth. Videos are often unedited or edited in a mashup style, showing his train of thought and musings at his own unique pace.
Lopez has a charming, affable demeanor on camera, whether showing off his wardrobe or explaining his coming out journey. Lopez has undergone some sharp content changes through the years, with phases where he's more willing to share personal anecdotes and other times where he keeps it light-hearted and fun. You never know exactly what he'll share with his fans. Therefore, we'll give a solid potpourri of items from all of his socials to get you through the day.
If you have followed Lopez for the last several years, you'll know he used to go by the name Hector Lopez. He's changed his social media name to Luis because he doesn't want his coworkers to find all of his content, and he likes the name better than Hector. Lopez's style of talking and explanation of his new persona demonstrates his typical good-natured and fun videos.
Lopez shows off the ink on his leg, replacing some of the hand tattoos that he will have removed and adding others, as well. Butterflies, the number 13, and a Goonies tattoo are some of the fun ones he talks about in this TikTok.
Lopez has been open about getting dental composite bonding done on his gums and teeth to make his smile even greater. While some people may not think it's necessary to get these types of procedures done, Lopez is brave to share how cosmetic items like these can add to your confidence and your self-esteem in the long run.
Lopez takes long breaks from social media, but when he returns, he often has in-depth videos like this house tour on his YouTube. We can see his signature style with portraits in the hallway and a closet full of unique clothing. Shoutout to the adorable little room for his son, which includes "Super Mario" stickers and Spider-Man sheets on the bunk bed. Lopez is clearly a very good father, and we definitely need more representation from queer fathers in the LGBTQ+ community.
Lopez shows off his sense of humor with this funny video making fun of the seemingly endless amount of bills that adults have to pay, making us all wish we could go back to our childhoods when everything was so much simpler. Lopez often likes to post these types of humorous skits on his TikTok and Instagram!
Lopez has a variety of tattoos on his hands and arms, and this YouTube video gives a comprehensive breakdown of his body art choices. He gives advice to fans regarding his hand tattoos, telling everyone that he regrets getting those and that other people should avoid them because they fade much quicker than other tattoos.
Lopez's coming out video above is one of the more touching and genuine ones you can find on YouTube because everything happens in real-time. You can see him processing what it means to be openly bisexual and how he still has much growing to do if he wants to live his life as a proud LGBTQ+ person. He discusses how living as a bisexual man might affect his son, who is from a previous relationship. This speaks of a unique dilemma that some sectors of the queer population have.
Lopez dives into one of his favorite genres of social media video: the self-care routine. We see him give a short monologue before he gets to the waxing, something many people were fascinated with in the comments section. Others were thirsting over his shirtless body at the end of the clip.
One of the ways Lopez stands out on YouTube is by making videos doing mundane tasks like cooking. Even though the influencer doesn't have a culinary degree, it's fun to watch him make spaghetti sauce and struggle through certain parts of the process just like any of us amateur cooks do at home. Fans love his demeanor and his dog's inclusion in the video, too!
Lopez used to do a lot more thrifting and fashion videos. He tries to get back in the swing of things with a guide through his wardrobe, including some cool jeans with designer artwork on them.
---